Welcome to Qatar, the host of the 2022 FIFA World Cup™.
The 2022 FIFA World Cup™ will be the first of its kind. It will be the first World Cup in the Middle East, as well as one of the most sustainable and accessible in the tournament's history.
Learn more about the people who call Qatar home. Join them kitesurfing down Qatar's coasts, drinking coffee in Katara Cultural Village, or cycling across Qatar's desert landscape.
Sporting excellence from the ground up
Having hosted more than 500 international sporting events in the past 15 years, Qatar has already brought the world together for events ranging from athletics and golf to tennis and football.
This World Cup will be no different. All FIFA World Cup™ stadiums in Qatar will be no more than an hour's travel time from any other, allowing fans to watch two games in one day.
div style="display: flex; flex-direction: row; align-items: center;">

View this post on Instagram
A coast perfect for water sports, a desert made for adventure
Travelling even short distances out of the capital transports you to untouched landscapes.
Drive up the coast to see sparkling blue water perfect for kitesurfing. Qatar's mangrove reserves provide a serene location perfect for kayaking and paddle boarding – also home to flamingos and other birds migrating through Qatar.
If you decide to go south, Sealine Beach brings adventure to your stay, with dune bashing, camel riding and camping under the stars.

Culture around every corner
Qatar's culture can be seen and felt throughout the country, as you stroll through Downtown Msheireb or drink tea in Souk Waqif.
Many of practices in Qatar are often inspired and shaped by those that came centuries before. Learn more about Qatar's vivid and unique history, and how it is preserving its rich traditions for future generations.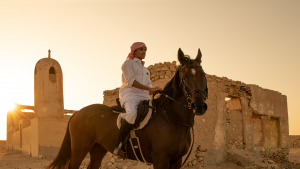 Buildings that will leave you in awe
Qatar's stadiums, museums and buildings will make you rethink what architecture is. Our modern marvels do not leave the past behind – with every wall, floor and ceiling influenced by both the past and the present.
Visit our National Museum which defies gravity, understand the motifs within our stadiums and witness how international architects have left their mark on Qatar.
View this post on Instagram