December 2020
---
Qatar Music Academy
Qatar Music Academy (QMA), a member of Qatar Foundation, is the first music academy in the country. With the goal to train the next generation of world-class musicians in the region, Q Life spoke to Taoufik Mirkhan, the Head of the Arabic Music Department.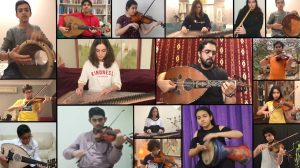 Can you tell us a little bit about the Arabic Music Department?
The Arabic Music Department at QMA offers comprehensive education on Traditional Arabic instruments such as the Oud, Ganun, Nay, Kaman, and Arabic percussion. We also offer ensemble group classes including Takht, the traditional Arabic ensemble, and Jawqa, meaning Arabic choir. Through these programmes, we offer our students the chance to explore the theory, practice, and history of maqam music, allowing us to preserve the legacy of Arabian music culture.
In addition to teaching students how to play instruments, you also cover music history, theory, and analysis through the 'Maqamat' course. Why is this important for students?
The course teaches oral techniques and the maqam system which lie as the crucial foundation of traditional Arabic music.
How are you merging Qatari musical traditions in your department?
Students in QMA learn the unique Qatari iqa'at (rhythmic cycles) in addition to Qatari folkloric songs. We make sure to have a yearly collaboration between Qatari musicians & QMA students by organising recitals and workshops together.
Why is it important to preserve Arabic musical heritage and carry the practice to the next generation?
All over the world, the cultural heritage of a nation is held with great importance. Teaching the framework of Arabic and Qatari music affirms the identity of some of our students in a unique method that can preserve it for generations to come.
What have been some memorable experiences with students in the Arabic Music Department?
We held a performance during the Gala Concert of the 10th anniversary of the Qatar Philharmonic Orchestra for Her Highness Sheikha Moza bint Nasser. We have also performed for Prince Charles, Prince of Wales, and the Duchess of Cornwall.
Lastly, we participate with other entities during the celebration of Qatar National Day.
How is QMA spreading Arabic Music appreciation to the wider community in Qatar?
Students at QMA perform regular performances and collaborate with many national organisations. We also arrange a yearly educational activity for international and independent schools within Qatar to encourage talented students to enroll in our Academy.
Additionally, we launched a course "Certificate in the Fundamentals of Music Therapy" with collaboration with Weill Cornell Medicine-Qatar, giving the learners an overview on how to use music therapy to treat a variety of conditions, including anxiety, depression, autism, Alzheimer.
QMA is also a Qatar Foundation Youth Ambassador and promotes unity through the common language of music, regardless of nationality, religion, or status. One of our future goals is to integrate a specially designed music program into Qatar Foundation schools.