February 2021
---
Run The World
Run The World is a female running team, the first in Qatar, led by a group of ambitious women, including co-founder Jowhara Al-Qahtani. Balancing her roles as both a doctor and avid marathon runner, Jowhara describes how the sport has positively impacted her life.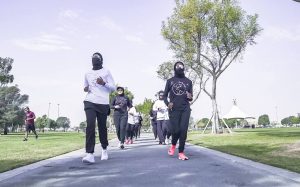 "Running has brought me joy and happiness, and has empowered me to be the person I am now. So I wanted to share this with the other ladies of Qatar," says Jowhara. "Running taught me so many things, so many life skills. Discipline, determination, and how to enjoy my life".
Jowhara's passion has taken her far beyond the running routes of Doha, having completed the virtual New York marathon last year. It is the community around her that is Jowhara's biggest motivator to keep going and pushing her boundaries. "Knowing I have a community running along with me means there is no way to stop or give up".
Jowhara has witnessed first-hand how the running community in Qatar has grown as a result of new infrastructure, such as running tracks in parks. "We see all these amazing parks and running tracks. This created more opportunities for us, the ladies, to go out and take advantage. That comes from the leadership of our Excellencies in Qatar".
"It is never too late to start running," says Jowhara. "Get your gear and start your journey".