December 2020
---
JedariArt
Over the past few weeks, larger-than-life murals have been springing up throughout Qatar.
With the goal being to bring art to Doha's streets, Qatar Museums established JedariArt – a public art initiative inviting seventeen artists to paint murals across the city.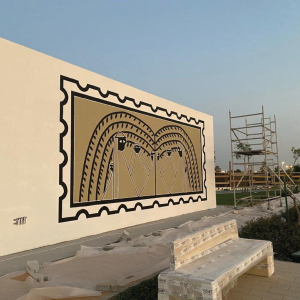 As artists painted their works of art, they asked themselves how can our artwork speak to the community? Using cultural motifs in a contemporary setting, JedariArt prioritised murals that added meaning to the neighbourhoods they were painted in.
One such artwork is located at the Post Office Park by Qatari artist, Maryam Al Maadhadi. Reflecting the location, the mural represents a postal stamp that features historic elements from across Qatar, such as the palm tree, pottery from Al Zubarah, and war arrows from Dukhan.
"What inspired me to create this artwork is our culture and nature in Qatar, to highlight how we live in Qatar and how we are proud of our historical heritage," Maryam said.
Another featured artist is Abdulaziz Yousef, whose two murals showcase figures of modern Qataris. His mural at the Msheireb Metro Station is likened to a 'family reunion' as it brings together people from all walks of life. The artist noted that, "My inspiration is expressing elements of the Qatari community and share our values and culture using my modern illustration style."
Other murals had uplifting messages embedded within their colourful designs. Dimitrije Bugarski's mural at the Doha Fire Station, titled "Head Above Water," is a colourful abstract piece that "shows even when we think we are 'drowning' we can always find the way out".
These new additions complement the vibrant architecture and outdoor spaces throughout Doha, providing new reference points for people to explore the city.