March 2021
---
Qatar's Waters
The peninsula of Qatar has been admired for centuries, for both its natural beauty and entrepreneurial potential. The water has welcomed fishermen, divers, and adventurers, who have found their calling among the waves.
Pearl diving and fishing were once pillars of the economy. Fishermen would voyage in their pearling boats, or dhows, to scavenge for these jewels. With neither oxygen tanks nor any modern technology, the divers would use pieces of wood to pinch their noses and leather sheaths on their hands and feet as they explored the depths of the Qatari waters. While Qatar has grown into an international business hub no longer economically reliant on these seafarers, pearl diving continues to be a much-celebrated tradition in the history that has made Qatar.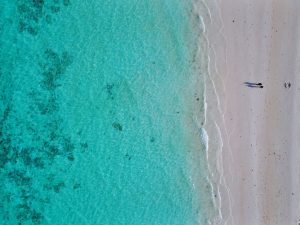 Now the water is as much a place for play as for work. From kayaking in the mangroves to kitesurfing along the shore – Qatar attracts adventurers from near and far who come to show off their extreme sporting skills, making the most of the unparalleled marine opportunities presented by the expansive Qatari coastline.
The reason why people come to the water may have changed, as has the equipment used, but the passion and love for Qatar's waters have remained a constant, and will continue for centuries to come.