April 2021
---
Aisha Nasser Al Sowaidi
When Aisha Nasser Al Sowaidi was approached to take part in the design of Qatar Museums' Culture Pass Club, she was delighted to explore the intersection of culture, tradition and lifestyle in Msheireb Downtown Doha.
As a multidisciplinary artist, Aisha's work looks at memory, nostalgia, and the passage of time. When it came to developing a townhouse within the Culture Pass complex, she knew that she wanted to bring the treasured history of Msheireb into the modern day.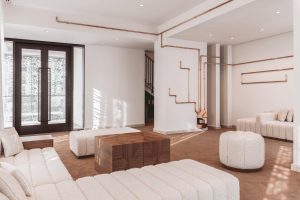 "Designing the Townhouse provided an outlet for my imagination in installations, furniture, and objects, creating a modern feel inspired by the old".
"I was taken back in time to Doha, to the streets, to the houses, and to all those emotions attached to them," Aisha said.
"The project combines traditions, cultural practices, hospitality, and other aesthetics picked up from patterns seen in the area back then. Low seating, a carpet-like dining table, and beds were designed in line with the local old way of living".
A traditional 'Midkhan' incense burner was used as an inspiration for one of the home's central installations, which disperses scents throughout the living room. The traditional 'Dallah' coffee pot, meanwhile, was reimagined into an installation that shoots edible bubbles with the flavouring of Arabic coffee.
"I thrive on reflecting memories in design and creating objects that conceptually tell a story. I wanted to bring back some old aesthetics, traditions, or functions into our modern world through those designs".
The Culture Pass Club has added to the diverse architectures and styles present in Msheireb and raised the bar when it comes to consumer expectations, according to Aisha. "I had the pleasure of meeting many young and emerging designers. I see many good things growing from this initiative".
With great accomplishments such as the townhouse and several commissioned works at the National Museum under her belt, Aisha is always focused on what is yet to come. "I am in a constant rush to evolve and accomplish. I enjoy the process, the thinking, and the creation. My goal is to do more of that".