March 2021
---
The Samla Race
The Samla endurance race takes place every year across 200 kilometres of Qatar's desert terrain.
With a name derived from an Arabic word meaning 'strength and perseverance in the face of hardship', there is no question that this characteristic is needed in order to face the eight stages and many challenges of the race.
This year, the three-day extreme desert trek started in Abu Samra, where contests ran, swam, biked, shot, and kayaked for a total of 200 kilometres before finishing in Al Hawila. Crossing the map of Qatar, contests get to experience all the Qatari landscape has to offer.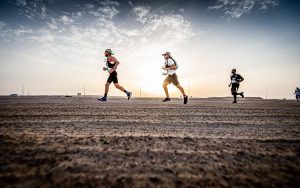 Featuring a three-kilometre swim at Kharayej beach, a 41-kilometre run to Al Khars'aa, a 70- kilometre biking trail to Al Ghuwayriyah and a six-kilometre kayak to Maroona beach, participants must push their physical and mental limits in order to reach the finish line.
Spanning a total of 60 continuous hours, contestants are closely monitored by organisers and medical staff. Using wearable technology, everyone was tracked across the course to ensure their safety and progress.
This year, Qatari engineer and triathlete Abdulaziz Al-Tamimi won, completing the course in only 21 hours. He finally seized the first place prize after coming third in 2019.