February 2021
---
Qatar Cyclists
Qatar Cyclists is one of Qatar's largest cycling clubs. The co-founder Dr. Abdulaziz Al Kuwari, CEO of Aspetar Hospital, had convinced his brother and two friends to try cycling while he was studying in Canada. A later year, he returned to find a group of 75 riders. What started in 2013 amongst a group of friends has grown into a national club with more than 2,000 registered riders.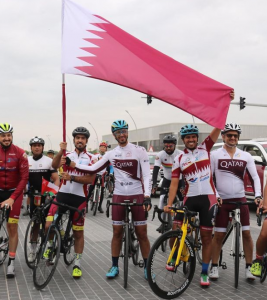 "I was able to gather around me a group of well-educated, very motivated people who really cared about the community and wanted to create a change," Dr. Al Kuwari says. "We formed a great team that really was able to spread the message and convince a lot of people to change their lives and adopt cycling".
Sponsored by the Ministry of Youth and Sports, Qatar Cyclists has organised many local and international events. "There's a lot of events that we are really proud of. One of them is the historic 'Women on Wheels'. It was the first time in the history of Qatar that 700 women rode together in one place," Dr. Al Kuwari fondly recalls.
Charity rides are a central part of the Qatar Cyclists' calendar. Through fundraising rides crossing the terrains of Europe, a group of Qatar Cyclists were able to build a school in Palestine. "I can't describe the feeling that we felt, the sense of pride and satisfaction that that gave us".
Another special memory for Dr. Al Kuwari was cycling for education in Rwanda, giving talks at schools along the travel route. "We had engineers, doctors, a minister, and an ambassador on that trip. Each of us shared our life experiences with those young kids. To see the excitement and the joy that those kids felt, there is nothing to describe it. We were so proud of that trip. I would say that it was one of the best trips of my life."
As a spine surgeon and CEO, Dr. Al Kuwari is used to long days and 8-hour surgeries. He finds strength from his dedication to cycling. "If my level of endurance was not as high as it is now from the cycling, my performance would not be as good and I would not be able to serve my patients the way I would like".
He is also keen to promote the wider health benefits that cycling offers to patients and his local community. "It can treat many diseases. It can improve your cardiovascular system. It can treat obesity. It also has a direct impact on people's mood and their happiness".
For anyone interested in pursuing the sport, Dr. Al Kuwari advises gathering a group to motivate each other. "When it becomes a community event and you see your friends, you enjoy your time with them; you will keep on doing it".