February 2021
---
Alghais Diving
Alghais Diving was founded in 2015 with a mission to make Doha's underwater world accessible to all. Behind the name stands a team of dedicated people whose passion lies in diving, continuously expanding and evolving the club to become the hub of adventure it is today. Mahmoud Elmallah, the general manager and a resident of Qatar for fourteen years, recounts his journey as part of the club.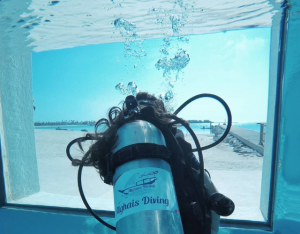 Mahmoud describes diving in Qatar as a special and unique experience. His favourite location is the Inland Sea, along the south-east of the country. "Here, the dunes meet the sea, and it creates such an unusual environment where you can find a natural reef with hard corals and beautiful marine life. Diving through the dunes to get there is a fun experience itself and if we're lucky, we get to see turtles and sea snakes. It's a beautiful place".
"My second favourite spot to dive would be Terry's Tug, a shipwreck in the north of Qatar which you can enter, with a depth of 32 meters. And third is the 50-metre tanker; a really deep dive". Alghais Diving also built their own site in cooperation with Mannai Company, "the GMC reef", which Mahmoud describes as one of their biggest achievements.
Mahmoud recounts one of his most memorable diving moments. "The plan was to dive on Pericles Wreck, with a depth of 26 meters. That day we decided to go a bit deeper than usual, and all of a sudden a large shadow passes over us. We never expected to see a whale shark that day!"
The diving community has continued to grow since the start of Alghais Diving. "In recent years, a lot of instructors have graduated, something wonderful for the sport. Once you become a diving instructor, you want to start teaching it to people you know, and that becomes the easiest way to spread the word and develop the community".
To keep their community connected, Alghais Diving also holds a monthly public event, 'Blue Monday', where anyone can head down to the centre to learn skills and share stories.
For Mahmoud, his love for diving comes from a place of indescribable passion. "It's somewhat like an addiction. Every time you dive you see something new. If you are teaching the sport, it brings you so much joy. Witnessing people transform their fear into excitement from beginning to the end of the course. It brings so much fulfilment, you can't explain it".