October 2020
---
Aisha Al Tamimi 
A beloved Qatari chef, known for her traditional comfort food, Aisha Al Tamimi shares her experience with breast cancer to provide hope for those who may be facing a similar journey.
Aisha Al Tamimi had no signs of cancer before she received her diagnosis, nor was she complaining of any pain or discomfort. It was during an unrelated appointment that a mammogram revealed her darkest fears.
"She told me that there was a small cancer in my left chest and it was a thunderbolt for me. I felt a great darkness in front of me, and I cried as if I was crying for the first time in my life".
A self-confessed workaholic driven by her passion for cooking, Aisha began hosting shows on television in 2006, and has since published six cookbooks. She travelled frequently for her work, showcasing Qatar's local cuisine at many international events and festivals. But all this had to be paused in light of her cancer diagnosis.
Soon after, Aisha underwent surgery to remove the tumour, which was thankfully still small due to its early detection. She also started radiotherapy two months later to eliminate any remaining cancer cells. It was at this point that Aisha decided not to let the cancer take over her life, and tried her best to look for the positives.
"I began to return to my previous nature. I was practicing my job as a chef and at the same time, I continued my treatment in the hospital. Praise be to God, I was the person who drove positivity for many of the patients in the hospital," says Aisha.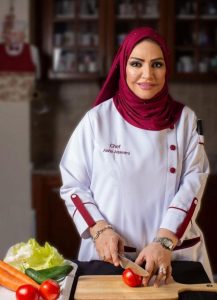 Determined to overcome the challenges of cancer, Aisha soon picked up her old hobbies. Prioritising her happiness and doing what she loved helped her to move forward, despite the severity of her situation.
"I am by nature a person who loves life and work, so I was able to overcome the disease," she says.
Aisha was quick to share her story of recovery, hopeful that she could inspire and give courage to many of those that find themselves in the same position as her. She became actively involved with Qatar Cancer Society and Screen for Life's campaigns to raise awareness for breast cancer in Qatar.
"I loved sharing my story so that others can benefit from it. Illness can be the beginning of a life full of successes and hope," Aisha says. Despite the hardships she has faced, Aisha continuously chooses to see the bright side, "my story with the disease gave me many positives and success".
Hopeful as ever, Aisha is excited for her future and is ready to make every moment count. "I live a positive life, praise be to God, and I love my work. God willing, soon I will publish my seventh cooking book".