December 2020
---
Noof Al Marri
Q Life speaks to Noof Al Marri, entrepreneur and owner of Desert Rose Café, to learn about her journey, passion, and knowledge for food culture and gastronomy.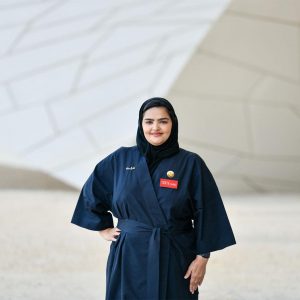 Noof is a specialist in local Qatari cuisine. "The food culture of Qatar has evolved and is strongly influenced by spices from India and food from the Levant. It started very humble but grew over the years into more of a sophisticated cuisine due to the expansion of Qatari society, and the international blend that happened here through the vast expatriate migration".
Noof opened her Qatari fusion 'Desert Rose Café' at the National Museum of Qatar around 18 months ago. Chef Noof was ecstatic by the interest taken by tourists in her restaurant; "I was surprised at how fond foreigners are of Qatari dishes. I suppose people like variety and want to discover new flavours!"
The distinctive taste of the home-ground spices is the secret ingredient to the Qatari cuisine she serves. "I took my first step into the world of gastronomy 20 years ago. Spices are what distinguish the Qatari cuisine and make it special, they are the gateway to great tasting food".
From a young age, Noof has always shown interest in the art of cooking and combining spices and flavours to create the perfect recipe.
"My passion started when I was a little girl, always trying my hardest to help my mother in the kitchen. A challenge I initially faced was trying to find high-quality spices to use. To solve this problem, I began handmaking my own for each dish. Now I own a line of spices called 'Spices by Chef Noof', that I am planning to expand and export internationally".
"I've participated in local and international food expos in Doha, Germany, China, Turkey, India, among others, and taken classes and courses in the traditional cuisines of many countries", allowing Noof to acquire a vast amount of knowledge on international gastronomy over her career.
Noof hopes to continue travelling the world to expand her mastery of what she loves most, bringing this back home to create dishes from the countries she has visited and, of course, incorporating her own wonderfully crafted spices.
View this post on Instagram