October 2020
---
Ghanim Al Sulaiti
Ghanim Al Sulaiti's entrepreneurial journey began with a simple thought; "food has the power to change how you look and feel. I've met a lot of people on vegan diets who've started businesses. I've seen the impact they've made on their communities, and I wanted to do the same in Qatar".
Ghanim is the co-founder of Evergreen Organics, established in 2016 and the first vegan café in Qatar. "It is a space that represents sustainability, consciousness, awareness, mindfulness and health. I wanted a place that I can go and feel safe ordering whatever I want on the menu, knowing that the food is cruelty-free and full of nutrients".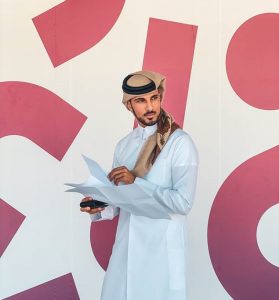 Evergreen Organics quickly became a hotspot in Qatar for healthy food lovers. It motivated Ghanim to explore other green business ventures, such as Papercut Factory and Botany Skincare, that all promote a vegan lifestyle. "All of my businesses have come from a place of need, for myself and others," he says.
Motivated by his passion for wellness, Ghanim shares his knowledge by hosting educational events around Qatar. "I want people to know about the benefits nature has to offer. I also want people to know that they can have control of their health. This starts with the right nutritional education".
"Veganism is more than just a diet, it's a movement, it's about being as compassionate as possible to the environment and animals". Ghanim initially found committing to the vegan lifestyle challenging, but he soon found pleasure in seeking out vegan-friendly substitutes for his previous diet; "at times, it can definitely be hard to find vegan alternatives, especially when going out and socialising. However, now I know the ways to replace certain foods, which has made me more confident about my choice to be vegan!"
For those considering turning vegan, Ghanim offers some advice: "the first step you should do is to lean into it, don't jump from being a meat-based diet to a vegan diet. I took one year to go fully vegan. Take your time, introduce healthier options and alternatives, but the motivation behind it should be: what can you do to feel better and help the environment?"
This is a question which guides Ghanim in both his diet and his career. It is one which appears to have served him well, and from which we can all take inspiration.