April 2021
---
Wardah Mamukoya
Wardah Mamukoya is an engineer, entrepreneur, and the founder of Wa'hab. She recently spoke with Q Life to discuss her organisation's mission is to deliver excess fresh food that would otherwise go to landfill to communities and charities around Qatar, to reduce the amount of people going hungry and food being wasted.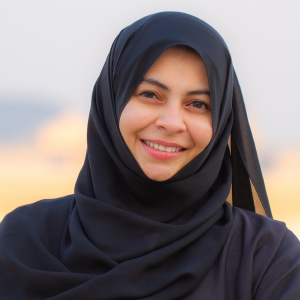 What inspired the creation of Wa'hab? 
I stumbled upon the 'Robin Hood Army', a volunteer-based organisation that has helped redistribute more than 68 million meals. My correspondence with their co-founder Neel Ghose inspired me to start something similar in Qatar.
We founded Wa'hab to connect surplus food to those that need it. Wa'hab has been fighting food waste in Qatar by implementing the '3 R's' of sustainable food waste management – Reduce, Reuse, Recycle.
Although there are no cases of starvation here in Qatar, there are many that could benefit from the available surplus food. It was time we started feeding people and not landfills.
How has the community reacted to your initiative?
The response from the community has been excellent so far. We currently have a growing team of more than 150 volunteers, called the 'Wa'hab Food Heroes'. These are people with everyday jobs and responsibilities from various ethnicities, backgrounds, and cultures, that all share one common passion – to make this world a better place.
Our client base has also been growing steadily, and we are seeing more people willing to donate to our cause.
Has your organisation faced any challenges in its mission?
One of the most challenging aspects we have faced, and still face, is the reluctance to share surplus food because of food safety concerns. We have tried to overcome this by creating more awareness on how we can ensure the safety of the beneficiaries.
What do you consider Wa'hab's greatest achievement?
Our most significant achievement is simply being able to positively contribute to so many people's lives. By coming together through our volunteer team, we have redistributed more than 500 tonnes of surplus food to the community.
I am also incredibly proud that Wa'hab was awarded a Qatar Sustainability Award in 2018 by the Qatar Green Building Council, for our efforts in reducing food waste, thereby offsetting carbon emissions from landfills. Also, Doha Festival Magazine selected me in 2019, among 30 others, as the most influential people who have impacted the community.
What is your favourite Wa'hab memory?
Every piece of recognition we receive after a food drive becomes our new favourite moment. The support we receive from the community motivates us to do more.
But one particular moment that comes to mind is during the Summer Cool Campaign, where we had donated chilled water bottles to labourers at work. One of our volunteers remarked, "seeing the smile on a person's face when you give something as simple as water makes my day, and I hope it gives them faith in the good in people".
Does Wa'hab have any plans during Ramadan?
The Holy Month of Ramadan is a month of giving, offering an opportunity to connect with people and their needs.
Wa'hab has collaborated with various organisations to distribute food while fully adhering to the COVID-19 regulations. With the partial lockdown, it is more important than ever to offer community support and what better way to touch hearts than through warm meals.
What are your goals for the future?
Wa'hab wants to make composting easy and accessible to all by providing various composting solutions, from commercial to at-home use. By replenishing the soil through composting, we hope to be instrumental in helping Qatar achieve self-sufficiency in food production, aligning with the Qatar National Vision 2030.