April 2021
---
Roula Abou Ramadan
Roula Abou Ramadan, an Arabic teacher at Qatar Academy Doha, strongly believes that there are several characteristics that define a good teacher. These have been printed out on a placard and displayed in her classroom: compassionate, creative, open-minded, engaging.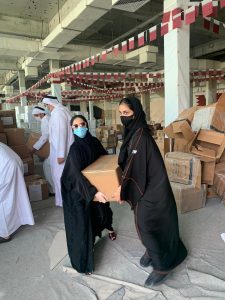 It was from her belief in these values that she decided to found the Ramadan Suitcase initiative 16 years ago. Every year since, students at her school have gathered hundreds of boxes containing ingredients such as flour, sugar, dates, and milk for charity.
"I always knew this initiative would be successful, from the very start, and that's all because our students were raised in a culture that promotes the principle of giving back and helping others. The essential goal is to always uplift and develop the community they belong to".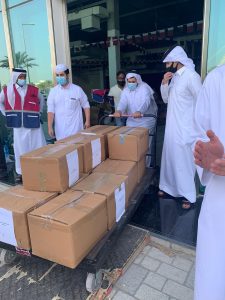 Roula describes the Ramadan Suitcase initiative as a school-based project that engages with the community. Students are involved with every step of the project, from gathering the required resources, compiling the boxes, and finally delivering it in-person to those in need.
"There's no doubt that an experience like this can leave an imprint on the students. It ties them to their community; it creates leaders out of them and establishes their sense of duty towards their society".
Throughout the time that the programme has run, one of Roula's favourite memories is of her students' response to the global GOVID-19 pandemic. Despite the difficult circumstances they faced, Roula was surprised when she was contacted by several of her students who were willing and eager to help.
"I received a call from an alumnus who told me he and 11 other students were ready to give a helping hand and make Ramadan Suitcase happen," says Roula. "They were very successful in accomplishing their goal. They gathered 500 boxes that were distributed to people in need with the help of Qatar Charity".
Her hopes for the future of the initiative are immense; "we must always remain optimistic, dedicated to the cause, and connected to our communities. I hope that this initiative can be implemented in schools and universities across Qatar Foundation".