September 2021
---
The 'Afghan Dreamers'
The 'Afghan Dreamers' are an all-girls robotics team from the Afghan city of Herat. Its members, aged between 15-19 years, first made headlines in 2017 after winning a prize at the FIRST Global Robotics Competition in Washington DC. Most recently the team was focused on supporting efforts to fight COVID-19, by creating a low-cost ventilator made predominantly out of car parts.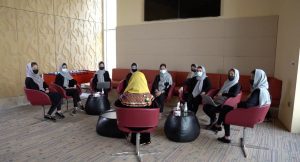 As the political situation began to change in Afghanistan earlier this year, their parent organisation, the US-based Digital Citizen Fund, asked for Qatar to safely transfer the girls to Doha.
"The Qatar government and the Qatar Foundation prepared this opportunity for us to continue our education, and not let our dreams disappear."
The flight to Doha was organised by Qatari officials, expediting their visas and ensuring they were safely evacuated immediately. The girls were accompanied by their teacher, who added; "they responded incredibly quickly to our request. They sent a plane, helped with the logistics and transportation of the girls to safely come to Doha, and are now providing them with facilities for their education."
After the girls settled in, they were granted scholarships by Qatar Foundation and Qatar Fund for Development to continue their education in Qatar Foundation's world-class universities based in Education City. This reflects Qatar's deep commitment to ensuring the right to education is enjoyed by children of all ages.
"I have to thank the Qatar government for supporting our team at a very challenging time", said the teacher. She told her students that she "wished I had this opportunity at my age."
"I know that we are in a different chapter of time for Afghanistan. And it might seem to be more challenging today to discuss about establishing education, robotics, or the future. But I think that still we can have hope."
Talking to the team members, it is clear that this is only the beginning of their journey to make a positive impact on the world with their inventions; "I have many dreams in my mind, and in this team, I can make them true."