October 2021
---
Saif Qazi and Susanna Ingalls
Saif Qazi and Susanna Ingalls are the force behind Urban Point, an incentives based mobile application that allows customers and businesses to connect and mutually benefit in an innovative way. Q Life interviewed the young entrepreneurs to learn more about their success story in Qatar.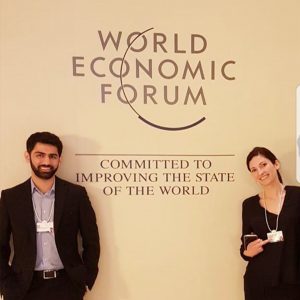 Tell us about your entrepreneurial journey. What has it been like?
Urban Point started as an MBA project at the Mannheim Business School in Germany. The journey has been full of rewards and challenges, and looking back, we are thankful for where we stand today. With thousands of users that love our service, major corporate partners and an amazing team that works with us, it is quite satisfying to see Urban Point's impact in a fairly short amount of time.
What was the inspiration behind founding Urban Point?
We had the idea that we should develop a subscription-based service, which can be offered as an embedded part of a telecommunications company plans and provide additional value and savings for everyday activities of customers. That was the inspiration behind Urban Point, to help telecommunications companies increase retention and engagement, help businesses get more customers and help customers save on their everyday purchases. We realised that if we can create a successful eco-system, it will benefit all the parties involved and will rapidly grow.
Why did you choose to start Urban Point in Qatar?
As part of our MBA project in Germany, we weighed several different factors to determine which country would be best suited to launch our project. We looked at various criteria, such as population, mobile internet penetration, ease of doing business, cost of living, and many others, and when we used this criteria to examine all the countries in MENA, Qatar topped the list. Since it was a new idea that had never been tried anywhere else, it made sense to launch it in a small ecosystem, test the concept, improve it and then expand to other markets. From that perspective, Qatar made total sense, even though at that time, neither of us had ever visited Qatar or even knew anyone from Qatar.
When we presented this to our program management, they informed us that there is an incoming Qatari student at our university and offered to connect us with them to see if they would be interested in joining our journey. The student was Ali Al Hajri, son of Dr. Khalid Al Hajri who both happened to be in Germany at that time. We met them in Heidelberg, and they agreed to join us in launching our project in Qatar. Dr Khalid Al Hajri became our first investor and company chairman, and we moved from Germany to Qatar to launch Urban Point. Looking back, choosing Qatar as our launch market was one of the best decisions that we could have made. We were lucky to have been matched with Ali and Dr. Khalid, whose leadership and guidance played a pivotal role in our success.
What do you think of the entrepreneurial space in Qatar? How is it developing to offer opportunities for young entrepreneurs and business owners?
We are a great case study for how a start-up should choose Qatar as the launchpad to test a new idea and then expand into other markets. Qatar has many institutions that are dedicated to supporting entrepreneurs. We have benefitted from the local ecosystem, anyone looking to launch a start-up in Qatar is privileged to leverage numerous benefits that are on offer for entrepreneurs in Qatar.
What have been some of your favourite moments or memories as an entrepreneur?
There have been several highlights that have been quite memorable and motivational to keep us going. The launch of our partnership with Ooredoo was quite memorable. We were awarded Mobile App of the Year by Entrepreneur only a few months after our launch, which was a great early confirmation that we might be onto something good. A year later, the World Economic Forum invited us as one of the most innovative start-ups in the MENA region, which was then followed by an Al Jazeera documentary about Urban Point. We won Seedstars Qatar and were then selected among the top 10 finalists for the Seedstars Global Start-up competition, the only Qatari start-up to go that far in the global competition in Switzerland. However, more so than the awards and recognition, it is the positive feedback from users and partner businesses that is always memorable and a great motivation to keep innovating.
How has your partnership with Ooredoo been mutually beneficial?
Urban Point's partnership with Ooredoo is a classic example of a successful corporate/start-up collaboration. When we were a relatively young and unknown start-up, Ooredoo put faith in our team and helped spread us to the broader market. At the same time, our team focused on developing an excellent product with great value for customers and businesses. Over the last 3 years, we leveraged the opportunity provided by Ooredoo to continuously improve our services and today Urban Point is the leading driver of traffic to some of the biggest brands in Qatar.
What is one piece of advice you would share with aspiring entrepreneurs?
Focus. Don't try to do everything at once. Entrepreneurs often forget that focus can be a competitive advantage. Identify a unique problem, focus on a unique solution, and try to bring that to market so that you can establish your niche. Once your solution is validated by the market, then you can build on it, but don't make the mistake of trying to go all in with too many ideas and features. That is a fast way to burn out and fail.