February 2022
---
Mohammed Ali Al-Khater
Torba Naturals is a local company creating organic cosmetics, essential oils, and personal care and cleaning products. Working with Torba Farm, Torba Naturals sources its raw materials from local plants and is leading the way in manufacturing locally. Q Life interviewed Torba Naturals' founder and CEO, Mohammed Ali Al-Khater, to learn more about their dedication to creating all-natural, environmentally-friendly products that are Made in Qatar for the local community.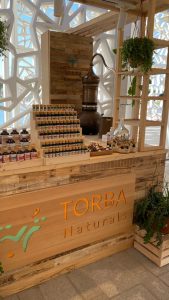 How did Torba Naturals begin and what was the inspiration behind it?
Torba Naturals was inspired by how currently most products around the world are made of synthetic materials, filled with chemicals and toxins that are not only harmful to a person's health but are also contributing to the pollution of the environment. With this global issue, we thought of how we can offer natural and healthy alternatives to these products.
We firmly believe that Qatar's terrain has a lot to offer, and we can utilise this through our products. As of present, few businesses in Qatar have ventured into developing products that are Qatari made and inspired by nature. We aspire to be one of the first companies to revive the nearly extinct or rare plants of Qatar, Traditional Arabic and Islamic Medicine (TAIM), and the ancient practices and heritage of the country, by incorporating them in many of our products.
Backed with this passion and motivation, I established Torba Naturals in 2016. The company aims to provide premium quality products that can meet the changing beauty, health and wellness, and lifestyle needs of customers, geared towards more natural, healthy, and environment-friendly product options. We also hope to build communities that share the values of health and wellness, and care for the environment.
Please tell us about some of the 'Made in Qatar' products that Torba Naturals sells.
All of Torba Naturals' products are 'Made In Qatar', from cosmetics to personal care and cleaning products.
Our products are made from plant extracts and concentrates, and without the use of chemicals, coloring additives, or non-natural mixtures or preservatives. Our products are made from 100% natural or organic, safe and effective, and clinically-tested ingredients, with a wide array of cosmetic and medicinal properties based on traditional and historical use.
To ensure that we offer only the best quality products, our team is dedicated to carefully selecting non-GMO, all-natural, premium-grade ingredients, grown locally in our farm or sourced from local or internationally-certified suppliers.
What makes our products more Qatari, aside from producing them locally, are the unique ingredients that we include in our products. We have a team of experts who are dedicated to product research and development, looking into the potential uses of local plants that are native to or available in Qatar and the region.
As a vendor at Torba Farmers Market, how do you think this platform supports small businesses?
Torba Market supports the building of the community and its local small businesses, while also promoting healthy and environment-friendly lifestyles.
It also allows communities with shared interests in health and wellbeing, the environment, and local culture, to gather and meet in one place, share their insights and experiences, and enjoy the various unique, local, and natural products available at the Torba Market.
What are the future plans for Torba Naturals?
Torba Naturals plans to open its flagship store in the next two years, making its products more accessible to the greater public. We want Torba to be an internationally recognised brand, known as the home of the first premium personal care and cosmetics products that are 100% made in Qatar. We want Torba to be a positive force and driver of change in the lifestyles of people, wherein they shift to using safe, healthy alternatives to products that are of better quality and are locally made.
We also aspire for Torba to be vertically integrated, from the farm to its production facility, and the distribution and retail channels. With this structure, we would have the capacity to offer a wide range of products, including food, personal care, and cosmetics, that we can certify as safe, healthy, clean, and environment-friendly, that would be recognised globally.
Do you have any advice for creative business owners?
In pursuing their passion, they must have an open mind to try new things and take some risks to realise their dreams. There will be inevitable trial-and-errors and obstacles along the way, but if it is something that they are passionate about, they will definitely find ways to overcome them. In the process, they will learn numerous things about the business and other people, and they will appreciate their growth in terms of knowledge, skills, and experience.
It is also important that they always consider their business mission or reason for being in everything that they do; from the creation of their products, to their marketing efforts, delivery of products, and customer service. All of these things should be aligned and communicate a consistent brand.