September 2021
---
Mohammed Al Delaimi
Financial technology, or 'fintech', is an emerging new market into which the entrepreneur Mohammed Al Delaimi has delved and excelled. As the Founder and CEO of SkipCash, a mobile payment solution application, he embarked on this journey two years ago.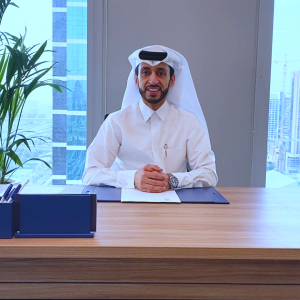 "For me, it has been and still is an inspiring journey, where I am always aiming to achieve better results and to delivery more than expected. This is the vision of the whole team at SkipCash."
As an avid online consumer, he saw a gap in the market and an opportunity to make the experience more convenient for both the merchant and the customer. The digital solution aims at unifying the mobile payment experience and making all transactions paper-less both online and in stores.
Entering the market as a start-up came with its trials; "I have faced many challenges along the way. The main one was team management and leadership. Managing a big group of people hadn't been a big part of my career, so for me it's a continuous learning curve."
Being in Qatar gave Mohammed a lot of opportunities to develop himself in this field, with the entrepreneurship ecosystem providing numerous resources to grow and develop his idea into reality.
"We have multiple entities that support start-ups. There is the Digital Incubation Centre, where SkipCash is incubated. The Qatar Business Incubation Centre, which is part of the Qatar Development Bank initiative to support small businesses and support innovative ideas. The Qatar Science & Technology Park also have several programmes that support entrepreneurs access development funds to shape their ideas and release them to the market."
Mohammed has celebrated many milestones since SkipCash's launch, with the app reaching more than 27,000 users, with more than 10,000 payment transactions done, and more than 270 merchants signed on. SkipCash is also the only Qatari company in Visa's Fintech Fast Track programme.
Mohammed's advice to anyone hesitant to step into the market is to take risks and "be patient as doing something new, bringing new ideas, and working in a different dynamic market always comes with challenges."