October 2021
---
Ramzan Al Naimi
Ramzan Al Naimi started his career 22 years ago working at Al Jazeera Network, however, only after two years at the Qatari media outlet, he began his business journey. Delving into various projects, Ramzan was unable to find his calling. He faced challenges along that way that finally led to him to Innovation Café, a product he notes helped him achieve his dreams.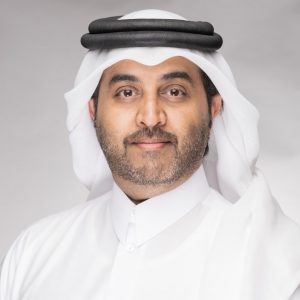 The knowledge and experience he accumulated over years has been put to use, benefiting entrepreneurs across all generations. His belief is to guide newcomers into the world of business and innovation. Al Naimi believes that "ideas are always exchanged in creative places. Sometimes, standard corporate environments could inhibit the potential for creativity and innovation." This is how he came up with Innovation Café, a unique innovation and design studio.
"I had noticed that people who exchanged business ideas, did so at cafes or unique spaces. I then thought, what if I could build a space where ideas can be shared and built at the same time? This was the inspiration behind Innovation Café."
His optimistic view of the possibilities and opportunities that the State of Qatar has to offer is what pushes him to continue to achieve. Business owners are at a stage where they look for gaps to fill, and resolve any issues they find in order to make the process easier for start-ups that eventually become hubs for innovation and entrepreneurship.
With help from entities like Qatar Development Bank and Qatar Science and Technology Park, innovators are given the tools they need to venture into their projects. Al Naimi also finds inspiration in the multi-national and diverse cultural population around him. He sees it as being a vital piece to bringing everyone's entrepreneurial skills together to create something new and unique. To him innovation café is the medium that connects people to their entrepreneurial or professional dreams.
Al Naimi is not stopping there, he has many goals for Innovation Café that will support Qatar's National Vision 2030 by promoting the growth and competitiveness of both the public and private sectors. His advice for aspiring entrepreneurs is to not be afraid to make mistakes as long as you learn from them. "You need to be patient when starting and give it time to reap the fruit of your labour."