May 2021
---
Matthias Krug
Born and raised in Qatar, Matthias Krug has travelled the world in his work as a sports journalist. Through writing for the BBC, CNN, and the Huffington Post, Matthias has been able to incorporate his home of Qatar into his work. "I'm proud to be able to contribute to the legacy and literature of Qatar's hosting of the greatest football tournament in the world, the FIFA World Cup 2022".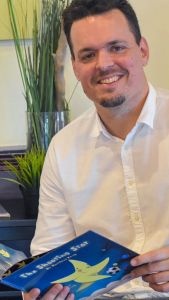 Matthias has also been passionate about reading since his school days, and recalls spending his time reading almost anything he could get his hands on. The sports-journalist-turned-author describes his career change as a "long-held dream". His time as a journalist covering sporting events both in Qatar and across the world inspired him to find a way to pass that passion and knowledge on to future generations.
Matthias found the perfect collaborator in his book publishers, the Qatar- based Hamad Bin Khalifa University Press. "It has been a fantastic experience working with a leading publisher to write books for adults, young adults, and children," he says.
His first book, 'Journeys on a Football Carpet', told the story of Qatar's evolution as a sporting hub. From the first games played on sand, to the Qatari team that reached the final of the 1981 FIFA Youth World Championships in Australia, to winning the 2019 AFC Asian Cup, Matthias chronicles the rich history and rapid development of sports in Qatar.
"Told through the inspiring stories of the sporting pioneers and legends that I was able to interview, the book has helped clear the misconception that Qatar has no sporting history," he says.
Although his book spans the sporting history of a nation, it was also a deeply personal story. It features the story of how his father came to Doha in 1982 as one of the first athletics coaches at the Qatar Athletics Federation. For Matthias, it recounts how he grew up as part of this developing global sports hub.
His book has gone on to win two international book awards and received praise from readers and media across the world. "Whether from readers or colleagues, to family and friends, I am very grateful for all the support and positive feedback received to date".
Matthias has also published three more books for children and young adults with HBKU Press. "I am always inspired by the way children react to my stories and to see how it helps them on their own personal development journeys".
Through his writing, Matthias hopes to engage audiences with the magical stories he comes across in his hometown of Doha. "I hope to inspire children to take up sports and to follow their dreams. No matter what obstacles they may encounter, sports teach youth important life skills and values which I narrate in these books".