January 2021
---
Faisal Abdulla Al-Naimi
Qatar Museums' Atharna programme brings its members closer to Qatar's heritage. From tours of the country's most popular archaeology sites to hands-on workshops, these immersive experiences transport members to the past.
The heritage sites that members can explore include Al Zubarah, a UNESCO World Heritage Site, the Gardens of Ruwaida, a hidden archaeological gem in the north of Qatar, and Murwab, a town from the time of the Abbasid Caliphs.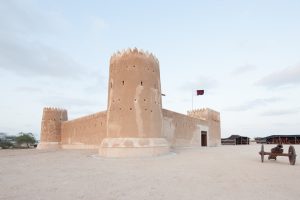 "Programmes such as Atharna enable us to put the local community in touch with their past, reminding them of the lifestyle of their Qatari ancestors. We also introduce the heritage of Qatar to Culture Pass members who are expats, so they can learn more about the country they live in", said Faisal Abdulla Al-Naimi, director of archaeology at Qatar Museums.
One of Faisal's favourite parts of the programme is leading the experimental hands-on workshop on how to make prehistoric stone tools. This goes through how everyday tools were once created, and is followed by the prehistoric stone tool tour at the National Museum of Qatar.
From early medieval settlements to 19th century forts, villages, towers and mosques, members are given an inside look on what life for Qataris looked like in the past. The well-preserved sites are part of Qatar Museums' commitment to safeguard the country's history so that residents can continue to retain their connection to years gone by, even as the surrounding landscape transforms.
The Atharna programme helps raise awareness about the importance of archaeology to the public. With discoveries of new archaeological remains and excavations still taking place regularly, there is much of Qatar still left to be discovered.
With the goal of putting local people in touch with their past, the archaeology department at Qatar Museums promises to continue developing new and exciting tours and workshops to bring members closer to the art, culture and heritage of their ancestors.