January 2021
---
Ektshef Deerti
Jowaher Al-Mutawa, the founder and CEO of Ektshef Deerti, is the first female scuba diving instructor in Qatar and female free diving instructor in the Middle East. She was inspired to found her company to provide a comfortable space for women to enjoy outdoor activities and adventure sports.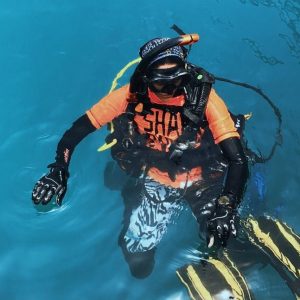 Some of Ektshef Deerti's women-only adventures include diving, safaris, desert camping, climbing, and hiking. "Each adventure is unique. I determine their success based on the customers' satisfaction and feedback, and am delighted when they encourage their friends to try our adventures too".
"So many memories and friendships are made during our trips. When women tell us that they have changed their priorities and want to live a more active and healthy lifestyle, or even be a better person overall, that truly feels like my biggest achievement."
Jowaher remembers that pulling together and training her team was one of the hardest challenges when she launched Ektshef Deerti. "They have to go through strict training to be prepared for all safety measures and have endurance during the trips. I've been able to gather a team with a variety of great strengths and abilities, who have bonded like family".
Ektshef Deerti's female-led team has goals to continue promoting the value of adventure sports, and raising the company's international brand as Qatar's first women-only adventure company. For Jowaher and her Ektshef Deerti team, the adventure has only just begun.