August 2022
---
Amal Al Shammari & Shaima Sherif
Embrace Doha is an independent cultural house that seeks to give visitors, expatriates and locals alike the most memorable Qatari experiences. Qatar is a country with a rich cultural heritage, whether through food, art or innovation, Embrace Doha aims to introduce visitors to the most authentic aspects of what it has to offer. Those looking to truly immerse themselves into Qatari culture can gain the opportunity to connect with the community through cultural sessions, events, tours and shopping experiences.
Amal Al Shammari is the founding director of Embrace Doha. She founded the company in 2014 after she realised that her expat colleagues had a desire to connect with Qatari culture in a more authentic way.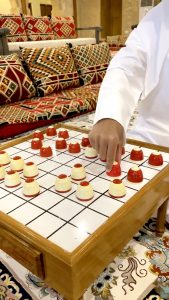 "I actually felt like my expat colleagues wanted to know more about the Qatari culture and I felt why don't we create a majlis that can host them and also, we can answer all of their questions and introduce all of our Qatari culture to them," she says.
The diverse Embrace Doha team is composed of 'heritage specialists' with an in-depth knowledge of the Arabian Gulf region and this is a major pride for the organisation. Through their efforts, they not only curate experiences but also support local artisans such as Sadu weavers and female artisans that specialise in hand crafted goods.
Al Shammari notes her excitement for visitors to experience the beauty of Qatar in the upcoming FIFA World Cup 2022. "Although we're a small country, we have a big heart and we're really excited to host you all here in Doha for the World Cup. Our home, is your home," she says.
Guests can participate in a variety of experiences through Embrace Doha. This includes cultural sessions for an introduction into the various cultural traditions that span from greetings and traditional clothing. Guests can also take various tours around the city of Doha or take part in different types of hands-on workshops, which includes bakhoor mixing or hand-crafted leather sessions.
"I don't think I could describe Qatar in one word. For me, Qatar is the people, how diverse it is, the amazing food and the hospitality," says Shaima Sherif, managing director of Embrace Doha.
The organisation hopes to combat misunderstanding when interacting with Qatari people. In the greater scheme of their work, Embrace Doha hopes to encourage tourism in Qatar and hopes to continue to support the realisation of the Qatar National Vision 2030.
As an acrcheologist, Sherif has many favourite things about Qatari culture. "If I had to pick one thing, it would be the clothing. There is this huge misconception that Qatari women always wear black, and that's not true. Thobe Al Nashal, which is the traditional dress is very colourful and beautiful."
Embrace Doha was founded on the principle of 'connecting cultures' and ensuring that not only the authenticity of Qatari culture is protected, but also that those seeking to learn and truly immerse themselves in the country's values and traditions, feel welcome and are provided accommodation to do so.