September 2020
---
Education Above All Foundation
Through its Youth Advocacy Programme, Education Above All Foundation is empowering the youth of today to be the leaders and change makers of tomorrow. 
Education Above All Foundation (EAA) enlists the help of eager young leaders through its Youth Advocacy Programme to help achieve its vision of bringing new life chances, real hope and opportunities to children and youth around the world. Ousman Camara, Al Dana Al Thani, and Ajlan Al Kaabi are some of the shining stars of the programme, helping to create sustainable and positive change worldwide by advocating for the right of quality education for all.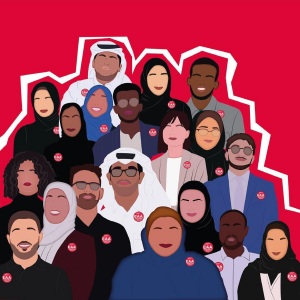 Although the youth advocates' each have their own diverse backgrounds and stories, they share a strong passion for inclusive, accessible and quality education. Al Dana was 16 years old when she stumbled across the application to be a youth advocate and felt a deep desire to make a difference for gender equality in education. Ajlan, a student at Carnegie Mellon University in Qatar, joined the programme to work towards his passion of providing quality education to underprivileged individuals.
For Ousman, the aspiration to join the Youth Advocacy Programme was rooted in personal experience. He explained, "I have witnessed and experienced what it feels like to be deprived access to quality education. Growing up in both The Gambia and Qatar helped me understand the need to exercise my civic rights and the rights of individuals who do not have access to the privileges I have in Qatar".
The programme provides training opportunities to build and grow advocacy skills and offers the advocates opportunities to participate in forums and youth networks on a national and global level. "EAA provided me with all of the needed skills to be an active member of the community. After understanding others' struggles, I felt the need to do more to help every underprivileged child," says Ajlan.
Ousman, Al Dana and Ajlan are all vocal and powerful agents of positive change for their fellow youth and have taken action to improve lives through education. After witnessing an excessive amount of bullying in high school, Al Dana organised an anti-bullying initiative to combat negative attitudes and foster an open and accepting atmosphere that is ideal for learning.
Inspired by the important work of EAA, Ousman started his own foundation, Educate a Generation, to give back to his community in The Gambia. The foundation currently sponsors children and young adults to attend school and university. "My goal is to extend the privileges that I was lucky enough to have to others. It is crucial to allocate resources for individuals in need and create opportunities for one another", he said.
Ajlan is committed to preserving our environment because he understands its ability to affect sustainable, human development around the globe. He was a member of the first Qatari team to win at the International Science and Engineering Fair last year for his research on converting environmental and industrial waste into value-added sensors.
These three advocates are contributing to their communities as partners in EAA's comprehensive approach to education, which recognises that there are many barriers that communities face which challenge their access to education.
"The EAA campaign transforms members of policy-making entities, thought leaders, practitioners and members of the public into 'allies' who truly embody the theme of uniting to protect education from attack," says Ousman.
Earlier this month, EAA celebrated the inaugural UN International Day to Protect Education from Attack and affirmed the importance of safeguarding schools as places of protection and safety for both students and educators.
Her Highness Sheikha Moza bint Nasser, chairperson of EAA and UN Sustainable Development Goals Advocate, spoke during the first virtual high-level event for International Day to Protect Education from Attack: "Protecting the lives, education, and future of those children is a responsibility that the international community cannot afford to ignore; a test that it cannot fail. For in these times, our humanity is tested. Let us unite to protect education".