February 2021
---
H.E.N.K.S Gardens
Started by three friends with a shared love of flowers, H.E.N.K.S Gardens opened in early 2017. Their flower shop soon grew into a staple for many in Qatar in search of eye-catching bouquets.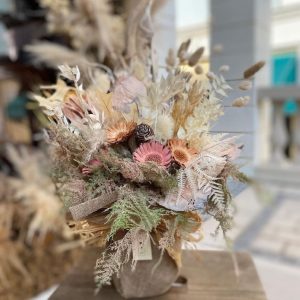 Creating floral centrepieces, bouquets, and headpieces, H.E.N.K.S Gardens caters to the creative. As part of their mission to consistently develop their expertise and expand their services, H.E.N.K.S Gardens has begun offering floral design workshops. Their latest training took place in the Vine Garden of the Qur'anic Botanic Garden, where students enjoyed an immersive workshop surrounded by nature.
One of the founders, Khadeja Albuhaliqa, is a certified floral arrangement trainer who leads the training workshops. "What inspired me to start these workshops is to share knowledge; I have this passion to distribute knowledge," she says.
"We have for sure created a community within Doha, not only through our workshops but also with our entire customer base".
Khadeja's favourite H.E.N.K.S Gardens memory comes from the very beginning. "Our first customer was actually a day before officially opening. A guy came to our shop and told us: 'I'm so glad that three Qatari ladies are working by themselves, and I want to be the first one to support'. That made our day".
Since then, H.E.N.K.S Gardens has achieved great feats such as being the first Qatari flower shop to participate in the International Floriculture Trade Fair, in the Netherlands in 2018. Despite these accolades, their main ambition has remained the same as the day they first opened the shop; "keep on expanding with our beloved H.E.N.K.S family".