January 2021
---
Jowhara Mohamed Ali
Growing up, Jowhara Mohamed Ali remembers waiting impatiently every week for art class. "I can't remember a time when I wasn't mesmerised by art," she said. Her weekly experiments with pen, paper and paint were the start of her life-long love of art. "I knew then; this is going to be my world".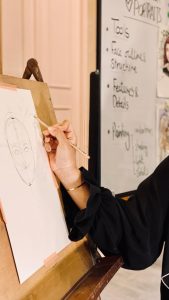 Juggling her career in marketing and her busy life as a mother, Jowhara was able to transform her love of art into a second career and became a certified art trainer. She launched her art workshops almost two years ago, following encouragement from her friends and demand from her Instagram followers. Offering a wide variety of workshops covering watercolours, card making, portraits, urban sketching, art journals and clay, there is something new for everyone.
"Everyone's favorite is the clay workshops, where we create an assortment of jewelry dishes, pots, and cups from clay and paint them," Jowhara said. "I try to keep surprising my students with new themes and workshops every month".
"My goal is to stand out with uniqueness and introduce art lovers to new forms and styles that are not known or popular in Qatar".
Her favourite part of her workshops is seeing people return to keep developing their skills. "Knowing how much they've learned and enjoyed it is so empowering and keeps me going on. Every workshop is exciting to me because I know for the next day or two I will meet not just students, but new friends and do what we love".
Jowhara is making the most of the winter weather by hosting Artist Picnics in some of Doha's beautiful public parks. These gatherings bring together art lovers to create freestyle art while discussing their shared passion. She hopes these gatherings will spread an appreciation and love of art even further throughout the Doha community.