October 2020
---
Sidra Medicine
Sidra Medicine's Healing Gardens offer healing and respite for staff and patients alike.
Nestled within Sidra Medicine's state-of-the-art facilities are the three Healing Gardens. A lush and calming oasis, the gardens provide a welcoming space for patients, families and staff to de-stress and unwind.
The Healing Gardens were inspired by studies showing that gardens can reduce stress and promote relaxation among patients, while also increasing productivity for those at work. Sidra Medicine wanted to offer an alternative patient experience, mitigating as much as possible the stress associated with visiting a hospital.
As the centrepiece of the main hospital, the gardens are loved by all for many reasons. The vivid greenery offers a peaceful escape, while the water features complete the sensory experience. One of the gardens is filled with colourful structures with which children are encouraged to interact. The gardens also have a functional aspect, naturally increasing the oxygen levels in the building.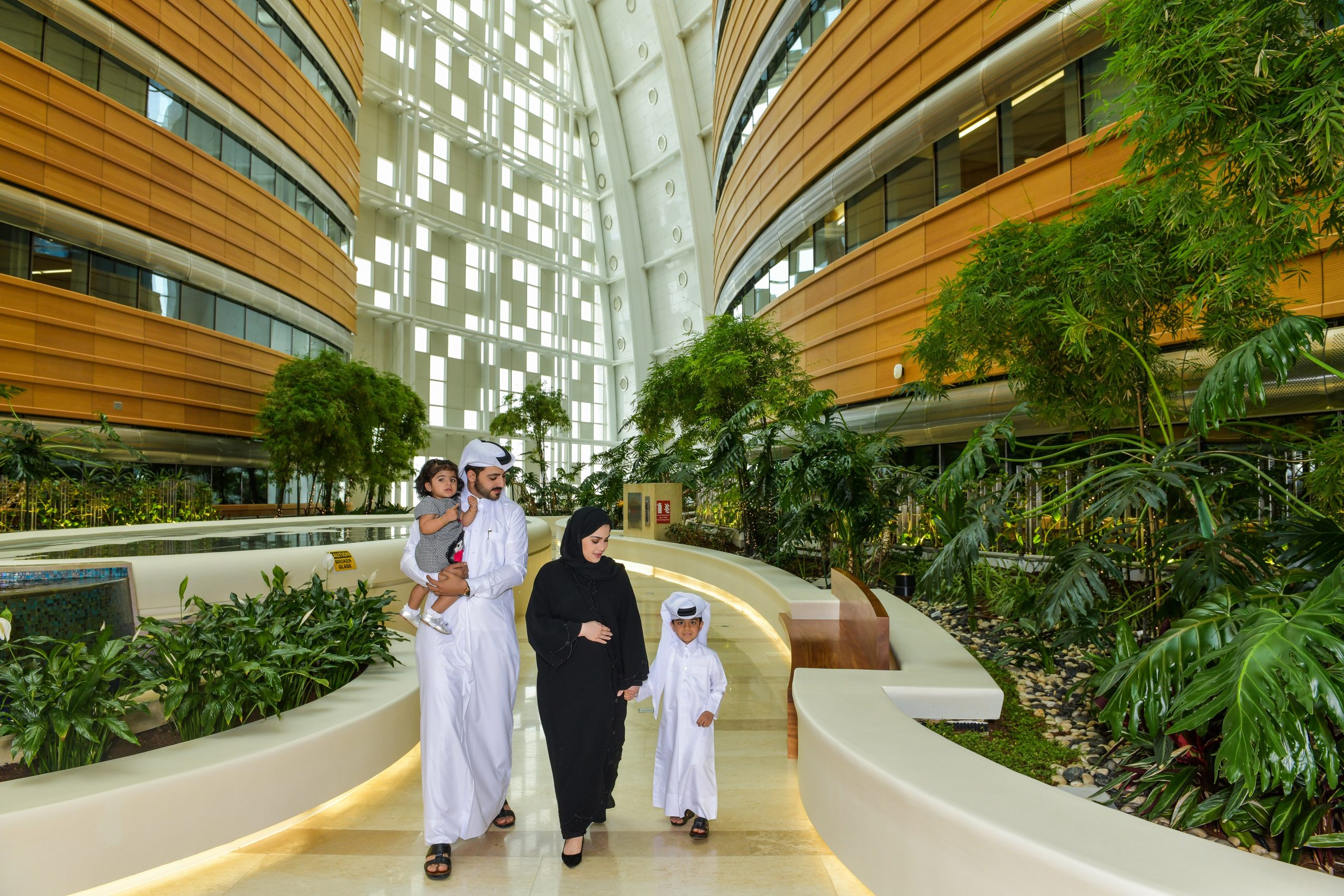 The curved shape of the towering atrium surrounding the gardens resemble the billowing sails of the historic Dhow boat. Designed by renowned Argentinian architect Cesar Pelli, the architecture of Sidra Medicine is intended to offer tranquillity, privacy and healing.
"Exceptional patient and family focused care" is one of the pillars of Sidra Medicine's philosophy, and the Healing Gardens play an important role in fulfilling its goal of personalised care. Children use the space as a play area, pre-natal patients can typically be seen taking a walk before giving birth, and guest and consultation rooms look out over them for a comforting view. The presence of the gardens has been shown to lower blood pressure and stress levels for many of those who use it.
Sidra Medicine aims to foster a comprehensive healing environment, from the care they provide to the features of the building, and the Healing Gardens are a key factor in accomplishing this objective.