December 2020
---
Fatma Shadad
Fatma Shadad, a beloved Qatari folklore artist known for founding the country's first all-female band, sadly passed away recently. Fatma was an early pioneer in the Qatar arts scene, who went on to become a well-loved voice in Qatari theatre and radio.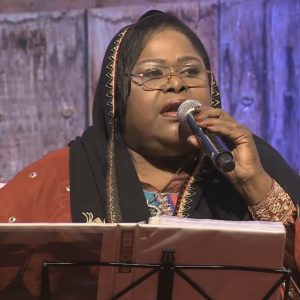 Growing up surrounded by music, Fatma admired how the community came together to listen to her father's local band. She was greatly inspired by these performances, and became determined to follow in her father's footsteps and one day form her own band. 
Despite the challenges and obstacles she faced on the way, Fatma formed her all-female band in 1996. She quickly became one of Qatar's most iconic singers, touring the country with her band and delighting audiences with her renditions of traditional Qatari music. Throughout her career, Fatma offered many opportunities to aspiring female musicians, becoming a mentor and a role model to countless artists.
One of Fatma's most popular songs is "Gharby Hawakom Ya Ahl el Doha", reflecting on her love and devotion to Qatar and its people. It has been covered by many folk artists in the region, and has become synonymous with national pride and celebrations.
Fatma's lifelong mission was to preserve folk music for future generations and share its beauty with the world. Her legacy continues in her band, while her invaluable contributions to Qatari folk music will be greatly cherished by all in Qatar.