June 2021
---
Waleed Majid 
Waleed Majid's passion for pool began from a young age, by watching his father play. Now a professional player on Qatar's national team, Waleed has dedicated his life to the game.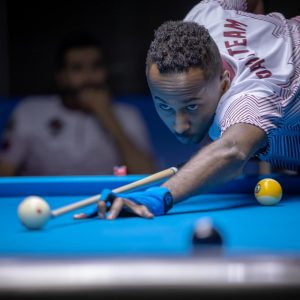 "Representing Qatar in the local and world tournaments makes me very proud and gives me the opportunity to raise up the name of Qatar," he says.
Waleed has already achieved an impressive level of success, winning more than 35 titles locally and internationally. Some of his career highlights include placing fifth in the 2015 World Cup of Pool and 2015 World Pool Masters. He is also the six-time Qatar Ranking Tournament winner.
"My proudest moment was the year I ranked 12th in the world rankings".
Known as the "Black Mamba," Waleed earned this nickname from his friend and fellow professional pool player John Morra, for his stealthy skills at the pool table.
Building on his already accomplished career, Waleed is now training for even more accolades. "I am planning to become stronger in the game to achieve more local and global titles. My greatest ambition is to win the WPA World Nine-Ball Championship, the biggest title that any pool player can dream about".