January 2020
---
Mutaz Barshim
Nicknamed the Arabian Falcon, he is one of Qatar's greatest living sporting heroes, seemingly defying gravity to fly through the air.
As the current world champion in high jump, Mutaz Barshim is also the nation's most successful Olympian, and the man many schoolchildren aspire to be.
When he attempted the 2.43 metre jump in the Diamond League 2014 in Brussels, the crowd watched in awed silence as he took on Ukrainian Bohdan Bondarenko.
The two men were engaged in a tense standoff, rivals in high jump as the best jumpers in the world. Barshim's fans erupted into joyous cheers as he cleared the bar, making him the second highest jumper ever after the Cuban record of 2.45 metres, set in 1993.
Barshim also won at the 2014 Asian Indoor Athletics Championships in China, and the 2014 Asian Games in South Korea. In 2016, he won a silver medal at the Olympics.
And in October 2019 – after overcoming an injury sustained competing in Hungary and ankle surgery – the 29-year-old became the first man to defend the world high jump title, with another spectacular win at the 2019 IAAF World Championships.
This took place in his home city of Doha with a worldleading jump of 2.37 metres, taking a gold medal with his signature agility, ease and technique. The crowd at the Khalifa International Stadium went wild, with celebrations continuing for many days.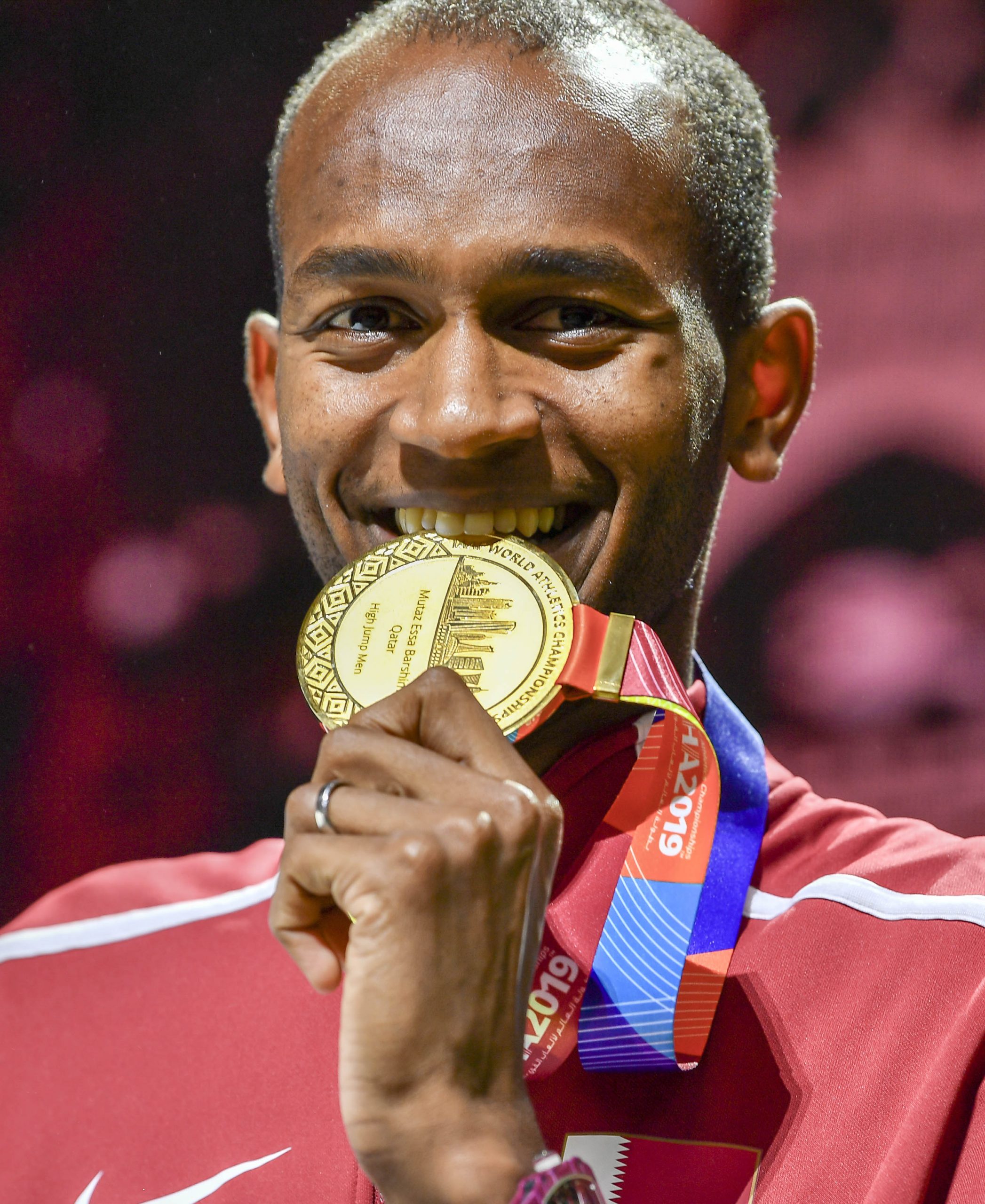 Appropriately, Mutaz's name translates from Arabic as 'Pride' – and he is certainly the pride of Qatar.
"It was just a dream come true," says Barshim, who wrapped himself in the national flag for a victory lap. "I was part of the delegation team when we applied to actually host the Doha Championships. We tried first in 2017, we did not succeed. It was won by London, where I won gold."
"Then we won the election to host the 2019 Championships. For me, Doha is the number one place to compete. I wanted to make my family, my people, my country, everybody proud. That is why winning at home was like a dream come true."
His Highness the Amir of Qatar was there too, and a now famous photo captures their victory embrace.
Barshim says of this high-level support: "It means so much to me. When you have that kind of tremendous support from His Highness himself, you can only have a great respect for him. He has so many responsibilities, but on that particular day he chooses to step down from all that and be present himself to support you. That is why I said to myself: I need to give something special."
"Even winning is not enough. You have got so much respect for those people who come to support you and you want to give them something spectacular and I am glad I was able to deliver."
Of his nickname, Barshim says that he does indeed sometimes feel like he is flying: "Oh definitely. At some moments, it feels like time just freezes, things go slow and at that moment when you clear the bar you feel like you are actually flying."
Barshim joined the world of athletics early, beginning the high jump at the age of nine. After graduating from the Aspire Academy in 2009, Barshim met his Polish coach Stanisław "Stanley" Szczyrba who trains him in Doha.
One day, Barshim hopes to give back to youngsters following in his footsteps. He says: "Sport has given me a lot and it's only right to give back. I want to pass on my experience to the next generations."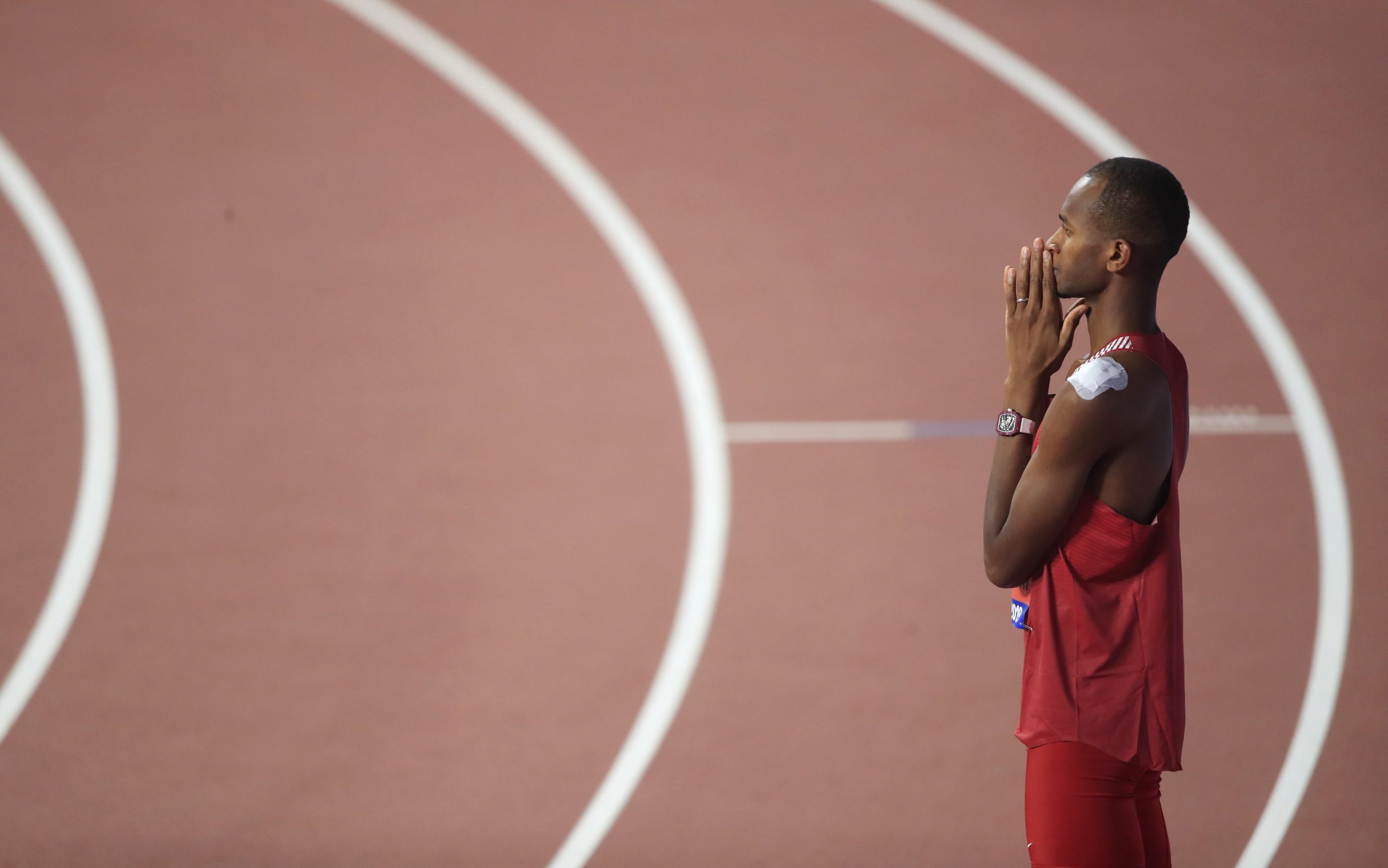 The FIFA World Cup 2022 is a big date for all Qatari sportsmen, no matter their discipline. Barshim explains: "Of course, I am excited, especially at home, we will all have a big role to play here, to make this event successful."
"Everybody in the country becomes an ambassador automatically. We need to come together, make sure we all have fun and help the visitors that are coming here watch and enjoy and hopefully make positive memories."
Then next year of course there is the Tokyo Olympics 2020. Barshim says the pressure is intense, explaining: "Everybody keeps telling me 'there is no going back… bronze, silver…next has got to be the gold."
"And I want to give this to everybody who supports me, to my country, my people, my team, my family and my friends, I want to give them that gold."
One thing is certain: in his next drive for success, Barshim will certainly have the entire nation cheering him towards victory.