December 2020
---
Unwasted
"Unwasted" is an environmental initiative led by a group of local designers, playing with the idea of what 'art' means in order to encourage action and change.
Located at the M7, an incubator dedicated to empowering fashion and design creatives, the exhibition highlights the importance of sustainable, waste-free designs that "reduce, reuse and recycle", raising awareness about waste in the fashion industry and its threat to the environment.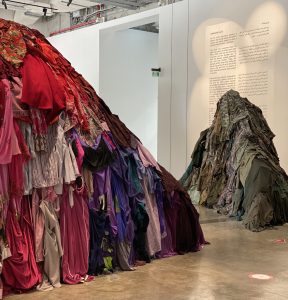 From a mound of eye-catching clothes to the display of hand-crafted pieces, everything in the exhibition integrates recycled materials such as furniture, accessories and clothing. It is the first project in Doha to receive an 'Eco-Event Level-II' award from the Qatar Green Building Council.
Alongside raising public awareness, the "Unwasted" exhibition is encouraging local cafes to integrate biodegradable methods into their product packaging. It is also hosting workshops and film screenings in collaboration with partner institutions, including the Doha Film Institute and the Qatar Foundation's 'Qatar Reads' campaign.
Initiatives empowered by creativity and sustainability have been rapidly emerging in Qatar by its creative minds. The "Unwasted" exhibition not only sheds light on the issue of waste in the fashion industry, but also engages the public by presenting the issue in unique ways to encourage action.