February 2022
---
Hameed AlQahtani
Hameed AlQahtani is a mechanical engineer by trade, but his passion for pottery has led him on a ceramic journey. Viral videos of ceramic making across social media channels initially caught his attention in 2017, driving him to learn more about this artistic medium.
After a few years of fascination and learning, Hameed finally took the plunge and launched Ceramic Cube in 2019. Ceramic Cube creates bespoke pottery, offers training sessions in pottery making, and sells all the needed tools and materials to create clay works.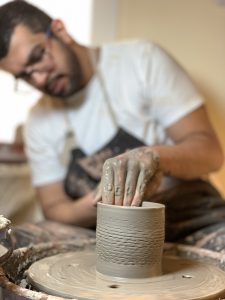 Hameed enjoys the expressive nature that pottery making allows. Through creating his art, he is able to portray whatever he is feeling into a physical expression.
"For my inspiration I usually go with my emotions and try to express what I'm feeling," notes Hameed. "Am I feeling sad? Happy? Am I feeling mischievous? I just reflect that in the shapes and colours that we use in the process of making ceramics".
He notes that his favourite part of pottery making is throwing clay on the pottery wheel; "that is when the lump of clay becomes whatever shape it will become. I just love to see the transformation happening with my own hands".
Ceramic Cube is a part of the weekly Torba Farmers Market, where local artisans showcase their sustainably made and hand-crafted products. He notes that the platform is a great way to get people more interested in pottery.
Hameed notes that the Farmers Market "supports me by actually bringing the products to the people; to understand and appreciate what it means to have a handmade piece of ceramics".
"This way we're attracting more people whilst getting more exposure, and I'm really thankful for Torba for providing this opportunity".