October 2020
---
Aisha Al Maadeed, Greener Future
After years of wanting to do something for the environment, Aisha Al Maadeed took the plunge and founded Greener Future in 2018. A Qatari youth-based initiative, Greener Future educates the public on the environment, spotlights eco-friendly alternatives, and encourages people to stand up for the planet.
Greener Future believes small actions done by many people can create a big impact for our environment. This is why they encourage simple steps like the use of plastic alternatives such as reusable bags, shopping at local environmentally conscious shops, and using recycling bins. They also create online awareness campaigns to mark important global events like Earth Hour and World Oceans Day.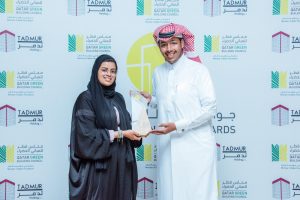 "Our proudest moments are when we see people changing their habits to save the environment," says Aisha.
One of Greener Future's most impactful campaigns was to cut down on the use of plastic in Qatar's cafes and restaurants. They achieved this by placing recycling bins around Doha hotspots to encourage people to recycle their plastic straws and offering reusable products instead for future use. Popular Qatari cafes like Flat White and Origin took up the challenge and began using plastic alternatives in their stores permanently.
Greener Future has diligently worked with many corporations such as the Qatar Green Building Council, Qatar Charity, and Tarsheed to bring about positive change and understanding in Qatar. In collaboration with Qatar Charity's Ramadan relief efforts last year, Greener Future delivered meals for the needy in eco-friendly packaging, while raising awareness for their cause.
A challenge that Aisha and Greener Future initially faced was getting people to understand the vital need for her organisation. She explains that people are often so set in their ways, that a change seems impossible. However, with some help and awareness from Greener Future, many have acclimated to sustainable practices that provide "a great result to our planet".
Aisha also visits schools to spread the message of sustainability to young minds. A great focus of the initiative is to educate future generations to halt the destructive cycle, and instead build sustainable habits early on that will help preserve our earth.
"Our current generation has grown up with some bad habits and it now seems difficult to change. But the next generation can adapt with new habits that can save our planet," she says.
When it comes to protecting Qatar's environment, Aisha recommends people take small yet significant steps to safeguard our country for future generations. "Start with your simple daily routine to use less plastic products, consider composting. Stop littering in beaches and public places to save the wild life and marine life".
With a strong belief in the power of youth, Greener Future is optimistic about the growing efforts to conserve our environment. "When I start educating a child about the environment's relationship to our lives, it makes me proud about what we do as a team in our community".