February 2022
---
Nesreen Al-Rifai
'Sahtak Awalan – Your Health First' was launched in 2012 by Weill Cornell Medicine – Qatar (WCM-Q), a Qatar Foundation partner university, as a five-year campaign encouraging people to lead healthy lifestyles and transform bad habits into healthy ones. A decade on and with multiple, successful initiatives underway, the Sahtak Awalan campaign is creating tangible change across Qatar.
"Our aim was, and remains, to educate the community about healthy living, sustainability, exercise and nutrition so that they can make informed choices about the food they consume and how to live healthily," says Nesreen Al-Rifai, Chief External Affairs and Development Officer at WCM-Q.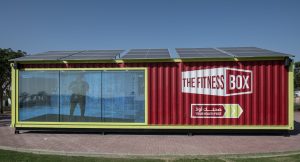 The inspiration to create Sahtak Awalan – Your Health First came from the Qatar National Vision's goal of promoting the health of the younger generation in order to build a sustainable future for Qatar. "We are also inspired by the State of Qatar's progress towards environmental sustainability and care for the natural world," notes Nesreen.
One of their most successful initiatives is the award-winning Khayr Qatarna programme, where produce planted by high school students in climate control greenhouses at schools is sold in local supermarkets. The programme now has 130 greenhouses installed in schools across the country. "It gives school students of all ages the chance to learn about growing and eating healthy, natural produce, while also discovering the importance of sustainability," says Nesreen.
'The Fitness Box' is Sahtak Awalan's latest initiative, utilising sustainable, solar-powered installations crafted from upcycled shipping containers equipped with giant screens to provide free workouts for the community in Qatar's beautiful public parks.
"The Fitness Box maximises accessibility by coming to locations that people already visit frequently, and by offering classes that suit almost all ages and fitness levels," says Nesreen. Offering free classes for all to join and running every day in three languages, The Fitness Box installations aim to reach every member of the community.
"Qatar is one of the world's most successful multicultural communities, with people from all over the world calling it home. Therefore, to be truly accessible it was essential that The Fitness Box reflected and celebrated this amazing diversity with a multilingual approach," says Nesreen.
With three locations successfully installed of The Fitness Box, Sahtak Awalan aim to expand to a number of new locations in the future.
As Nesreen says, "I hope everyone will come along to try it out and I hope we help in starting a new fitness movement that will result in a healthier and fitter community."