March 2022
---
Muneera Alshriem
Muneera Alshriem is a Project Manager at the United Development Company (UDC). She graduated from Texas A&M University in Qatar as an electrical engineer and is among the first Qatari females that work in this field.
"It brings me joy and pride to be working on one of the most prestigious projects in Qatar," Muneera said about her work with UDC.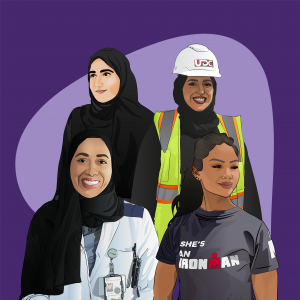 When she first joined UDC, Porto Arabia was the only residential area that was completed. One of the first projects she worked on were the two towers at the entrance of The Pearl, as well as the Marsa Malaz Kempinski Hotel and Medina Central.
"If you look around at The Pearl, you will notice that there are lovely smaller projects all around. I've been among the team that builds and maintains all these substations . Basically, my job is to enlighten peoples' lives – literally –  by using electricity!"
Engineering has always been in Muneera's plan. She remembers when her fascination with electrical engineering began.
"Since I was a little girl," she reflects, "my father used to take me to a Masjid far away in the desert, one that was powered by solar panels. It was so mesmerising when you see the sun rays' reflection as the solar panels rotate, it was really magical."
"It was in the middle of nowhere, no electricity at all. Then suddenly, the lights would go on in the masjid! This is why engineering was always magical to me, and I ended up pursuing it."
Muneera became the first female satellite engineer in the entire MENA region and she worked closely with the team that launched Qatar's first communications satellite, Es'hail-1.
Engineering is not Muneera's only passion. She also has a love for youth empowerment.
"Besides academic accomplishments, empowering youth has always been a passion of mine – since I was a freshman at university."
She has been working with NGOs like Reach Out to Asia (ROTA) and Education Above All (EAA) for about 10 years now.
When asked what International Women's Day means to her, Muneera said "It means a lot to me. It's a day that we come to recognize all the women and their accomplishments and their success. Women are mothers, sisters, daughters, grandmothers in their natural roles in all our lives. On this day we get to recognize the amazing roles these women play in our lives."