December 2020
---
365 Adventures
With Qatar's winter season in full swing, the wilderness becomes a popular place to escape city life and retreat to star-lit skies and toasty campfires.
Whether you want to swim in the sea or explore sandy dunes, there's something to suit everyone's taste of adventure in Qatar's deserts. 365 Adventures is a tourism company whose aim is to show tourists and residents Qatar's Inland Sea (Khor Al Adaid) – one of the few locations in the world where the sea meets the desert sand.
Down in the Inland Sea dune bashing in Qatar takes place, a popular adrenaline-filled activity for locals and tourists alike.
Once reaching the dunes, SUV tires are deflated to the right level, which allows cars to glide up and down the waves of sand with ease. Once in the dunes you can have an experience like no other, winding through the dunes like a roller coaster.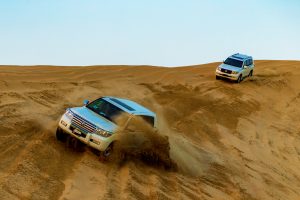 At Sealine Beach, 365 Adventures provides dune bashing with experienced desert drivers, well-maintained cars, and an experience to suit everyone's tailored level of thrill. Whether a resident or visitor of Qatar, a trip to the vast desert is a must to free your adventurous side and experience what Qatar's nature and culture have to offer.
The day in the desert typically moves from dune bashing to a beach-front camp. Whether you prefer a glamorous style of camping or an authentic and rustic Bedouin experience, 365 Adventures provides safaris to suit your taste.
Ending your night in the desert, you can sit under the stars, enjoy an authentic BBQ and tell stories by the fire.