September 2020
---
After an accidental detour, Bothayna Al Zaman stumbled across an old neighbourhood in Al Rayyan and was overcome with feelings of nostalgia, reminiscing on fond childhood memories of her grandmother's house.
Doha's modern architecture is known for its futuristic design and dominating high-rises. Tucked away throughout the city are Qatar's older neighbourhoods, home to intricate buildings which incorporate traditional geometric shapes and motifs throughout their design.
As an artist, Bothayna couldn't help but gravitate towards these neighbourhoods. Focusing on the main exterior, she was drawn to the unique doors crafted from either wood or metal and which she believes serves as a pathway to understanding Doha's history.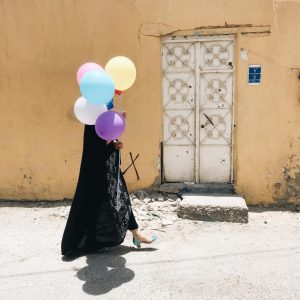 Bothayna launched an Instagram account dedicated to these doors, going by the name "100 Doors Qatar". She explains that she hopes to "encourage the preservation of old neighbourhoods" and to document the history and culture of Qatari architecture for future generations.
"The pictures of the old neighbourhoods and doors are meant to give the viewers a nostalgic feeling, as they aren't as commonly seen now due to modernisation," she says.
While she started this project as a way to preserve Doha's past, Bothayna was inspired to create artwork using photos from the 100 Doors Qatar, incorporating old Disney characters to add a dreamy feeling for viewers and breathe new life into the imagery. Those who would remember these characters will likely remember when these neighborhoods were brimming with life; the combination of architecture and familiar childhood characters result in a powerful artistic signature that has contributed to her work's success.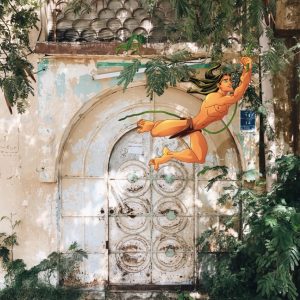 The old Al Ghanim and Um Ghuweilena neighbourhoods are among Bothayna's favourite to photograph, as they contain the largest variety of buildings. Her favourite door is adorned with images of peacocks. She shared that while "most door patterns are repeated, I have only come across this one once".
Bothayna's creativity in 100 Doors Qatar has captured the attention of viewers globally and has inspired others to pursue a similar idea in their own countries.
Some may ask Bothayna's goal when she reaches 100 doors? To continue.
With her goal being to preserve Qatar's history, she admits that she intends to continue capturing the doors.