April 2021
---
Maryam Al-Kuwari
Qatar Museums' Culture Pass Club is a space for Qatar's creatives to come together in a stimulating yet relaxing environment. Established in Downtown Msheireb, the members-only space contains 14 unique townhouses that act as a hub for Doha's artistic community.
World-renowned fashion designer Diane Von Furstenberg has an apartment within the Culture Pass Club, and recently selected furniture designed by Virginia Commonwealth University student Maryam Al-Kuwari to decorate her space.
Maryam's VCU class had been given a brief to design either a sofa or bed frame for Von Furstenberg's Msheireb apartment. In a hunt for inspiration and to make the design as fitting as possible, Maryam studied the interior design of Von Furstenberg's New York property.
After months of hard work, the final design consisted of matte black and neutral tones, incorporating functional aspects such as bookshelves.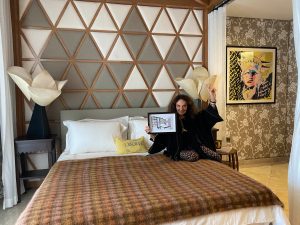 "I discovered my passion for design at a young age. I vividly remember visiting our house under construction with my father and was fascinated by how things were coming together and how detail-orientated he was. I always knew I was going to follow in his footsteps".
"It was a surreal feeling to know that Diane chose my design. I worked so hard on developing the project, and to see it come to life has been a dream come true. I mean, who gets the chance to say they've custom-designed furniture for Diane Von Furstenberg!"
Maryam is appreciative of the exposure her design has given her, and now has her eyes set on the next set of achievements and goals.
"I hope to continue to learn from design mentors. And one day, I wish to open a design firm that offers people a sustainable and contemporary approach to interior design. I want to give back to my hometown in a way it deserves, after all the support and opportunity it has given me throughout my academic years".
"The Culture Pass Club is a one-of-a-kind initiative and approach to the field of design. I'm proud to have such a concept in my hometown. It strongly represents how Qatar has been investing so much in the design world. I love how the Culture Pass Club feels like many spaces within just one space, each reflecting individual personalities".