June 2023
---
Uncovering Qatar's Hidden Beauty
Dr. Renee Richer first came to Qatar in 2007, to teach biology at Weill Cornell Medicine in Qatar, a Qatar Foundation partner university. Having grown up in rural America, Dr. Renee has always held an innate appreciation for plants and animals. As a young student, she focused on biological studies and naturally continued down that path throughout her career.
During her time in Qatar, Dr. Renee gravitated to the deserts. The more she learnt and experienced, the more she wanted to share with others. She went on to co-author Hidden Beauty, a definitive guide of plants in Qatar, featuring stunning visuals of native flora throughout Qatar. Q Life sat down with Dr. Renee to learn more about her book and her dedication to documenting Qatar's flora and fauna.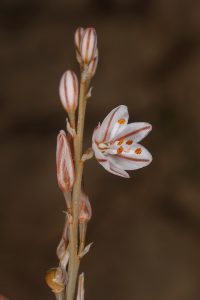 Can you tell us about your book Hidden Beauty?
The book Hidden Beauty was written to engage everyone from professional botanists and those doing Environmental Impact Assessments to the public and children. The book uses photos to illustrate different features of plants and display the sheer beauty of desert plants of Qatar. There are also images of the urban environment showing the beauty of the "old Doha" and plants making their way into the city.
What was the inspiration behind writing Hidden Beauty?
Living in Qatar, I felt the desert held so much excitement and interesting plant life. I just wanted to share with others my experiences in the desert. I want others to see the desert through my eyes, my perspective. I hope that the reader can start to appreciate the plant life and its value and see, with a fresh viewpoint, the plants of Qatar. Hopefully, the book will inspire others to look at their surroundings.
What was your most memorable moment when writing your book?
I took a year off from my university work to finish the book. For a year, I did nothing but look at pictures of plants and read and write about plants. It was an amazing time for me, I was content. I hope I will get another opportunity to write more about the plants of Qatar.
What makes Qatar's nature unique?
Because of the extreme conditions, you see organisms that are uniquely adapted to the environment. There are plants, animals, fungi, lichens and microbes that are adapted to these especially harsh conditions. When considering the flora of Qatar, it is a unique assemblage of Asian and African species that have been established on the peninsula as they migrated between the continents before sea levels rose to their current levels about 6000 years ago.
Is there anything that you found to be unknown or misunderstood about Qatar's nature?
The comment I hear most is that "there is nothing out in the desert", and that it is a "barren landscape". Hidden Beauty was designed to showcase just the opposite. It illustrates the diversity and beauty of desert plants. There is a rich flora in Qatar that still needs to be explored and documented. Taxonomic work needs to be done as there are likely unique species still to be identified.
If someone was visiting Qatar for the first time, what places would you recommend they visit to experience the best of Qatar's nature?
There are so many stunning places to visit. Umm Tais on the northern tip of Qatar is beautiful with a complex assemblage of coastal intertidal plants, sand bars, and a great place to picnic and swim for the day. Fuwairit also has a very diverse flora, the most diverse I have witnessed in Qatar, in part thanks to the varied landscape. To the southwest, I would recommend Al Kharrara. The landscape is covered by alluvial rocks washed down from Saudi Arabia millions of years ago. Lastly, the Inland Sea area is unparalleled for its immense microbial mat communities, comparable to Yellowstone National Park in the US. There are many others with special features.
During your time in Qatar, how have you witnessed the connection Qataris have with their environment? How is it unique compared to other countries?
I've been touched by the passion the people of Qatar have shown for the environment. While out in the desert taking pictures of plants, I've encountered many who want to see more emphasis on protecting the environment and celebrating the unique beauty of nature in Qatar. Traditional activities like falconry and winter camping are also an expression of a unique relationship with and appreciation of the desert.
What do you believe we can do to make the next generation more informed about their environment?
I hope that more students get to study Zoology, Botany and Environmental Science, with a focus on desert environments. It is also important that students get to spend time in the desert.
When we become familiar with plants or animals, recognise them and understand their special attributes, we are making an important connection that facilitates appreciation and protection. By illustrating these special attributes in Hidden Beauty, I want to help people build a better and stronger relationship with nature.