November 2020
---
Mariam and Reem Al Thani
Mariam and Reem Al-Thani founded their start-up, CC: The Works, to provide a nurturing space for Doha's creatives to connect and create. Looking at the city's bustling creative scene, they noticed a gap which they were determined to fill; "we wanted to build something grassroots with, and for, the community".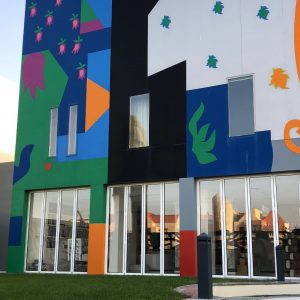 With a lot of hard work, and support from the Qatar Business Incubation Center, CC: The Works became a reality. "Partnering together kept us accountable in realising our vision of creating a safe space for people to imagine, develop, and create all forms of art".
CC: The Works provides workshops, co-working spaces, studio spaces, production facilities, and discussions with prominent artists. "We found that there was a need for a gathering place, a space for working, and a supportive network for local creatives. CC: The Works provides an answer".
CC stands for "creative consciousness", which is what Mariam and Reem wish to impart through their start-up. Recognising the ever-changing landscape of creative production and collaboration, their goal is to evolve as the community they host evolves. "At CC: The Works, we have translated this into a co-creating concept grounded in new-age approaches".
The hope for CC: The Works is to help rising artists navigate through the diverse local art scene and make their mark on the community. "It's about creating a platform where they can explore their potential futures, and helping them to learn the ropes on how to penetrate the creative bubble and understand their rights as creatives".
"Our favourite moments are working with fellow creatives and artists, hosting people in our space and seeing them collaborate and engage in the arts on so many levels. It has been so rewarding to see the community come together and continue to grow".
Exciting plans await CC: The Works in 2021, as they launch their membership program that will offer exclusive access to studio spaces, facilities and a creative network.
"We are very excited for the next steps that CC: The Works is taking and are always looking to hear from our community on what they'd like from us, in order to learn and grow together".