November 2020
---
Jaber Henzab
At the age of five, Jaber Henzab's mother recognised his creative talents after gifting him his first set of pencils. He recalls that "she was surprised at what I created and knew I had artistic talent". Jaber grew up with a strong interest in art, enjoying it as a hobby while he pursued his degree in mechanical engineering.
But his passion for the arts endured and after returning from his studies, Jaber was able to turn it from a side project into a profession. "It's something that has become an important part of my life, and I enjoy great satisfaction from every hour I get to spend doing art".
Jaber's pieces usually originate by something in Doha's skyline or architecture catching his eye. After capturing an initial photograph, he goes back to his studio and plays with the image, layering it with cartoons and drawings that both fit well into the existing photo while also transforming it completely.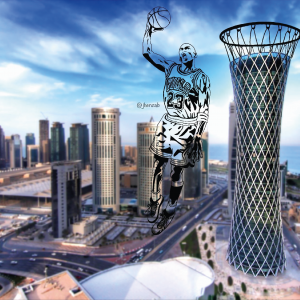 Like many artists, Jaber found inspiration in COVID-19 and some of his most popular works to date were created during quarantine. "I found that people engage with this artwork the most as it's the most relatable, a joint experience," he says.
One such creation included two of Doha's most popular public art pieces playing cards at Hamad International Airport, photos of which went viral shortly after its installation. "I think people resonated with the piece because of their longing for travel, an important thing to the people of Qatar".
Jaber is excited by the opportunities that social media provides for artists to learn, create and share. "In my opinion, you don't need a formal education to be a great artist, we now have a lot of resources available to us".
"Qatar Museums provide us with opportunities to meet great artists, along with hosting workshops, lectures and exhibitions. I try my hardest to attend these as an important way to improve my artistic skills".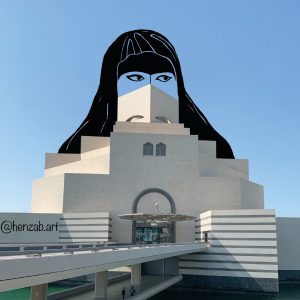 Having established a well-earned reputation and following for his award-winning artwork, Jaber is now keen to venture into different disciplinaries of art, with goals of establishing his own studio and creating public art work.
Reflecting on his impressive portfolio, Jaber notes fondly that his greatest achievement is not any of his awards or exhibitions or viral posts, but just that "everyday I spend my time doing art".