September 2021
---
Khaled Ahmed Al Boainain
Khaled Ahmed Al Boainain is National Museum of Qatar's youngest tour guide, at just 10 years old. He was recently tasked with guiding his fellow youth round the museum's 'Seagrass Tales, Dugong Trails' exhibition, which ran until earlier this month.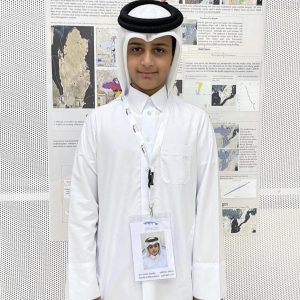 "The name of the show attracted me. I visited it and learned a lot about the sea cow, so I decided to become a mentor. I went to the National Museum of Qatar, specifically to the Department of Education and Community Awareness, and asked them to train me to lead visitors around the exhibition."
Khaled's interest in volunteering and environmental preservation were strong motivators for him taking up this position. He was keen to raise awareness about the at-risk dugongs, the only herbivorous marine mammal, which are native to Qatar.
The exhibition was hosted at the National Museum of Qatar in collaboration with Exxon Mobil Research Qatar (EMRC), to showcase the dugongs and how visitors can help protect them through science and everyday actions.
Khaled was one of the museum's first young mentors, reflecting the museum's belief in the value of cross-age teaching.
"It was a new experience for me, and I was so happy that I accomplished this beautiful dream," he says. "I also felt like I was a really great guide, leading the visitors through the exhibition and explaining to them what I had learned."
Khaled now hopes to become a guide for more of Qatar's historic landmarks, revealing the hidden treasures and stories to visitors; "I have many goals and dreams for the future, including becoming a guide in my country and explaining everything about the landmarks of Qatar to visitors, because Qatar is very beautiful."