February 2022
---
Isa Ali Aljalahma
Jilid is a premium handmade leather product manufacturer that was born from Qatari leather crafter, Isa Ali Aljalahma. Isa found his passion for leather via the exploration of different types of ancient, creative practices.
"I considered myself a creative person, and I used to love making things with my hands," says Isa. "Whether it was whittling a piece of wood, or crafting something out of some spare pieces of scrap leather – I enjoyed the process and I loved the product".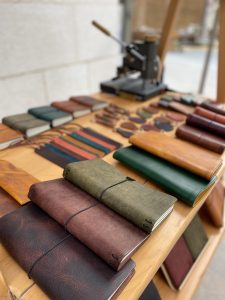 Through this exploration, he took a special interest in leather, and knew he had to turn this hobby into something more. Isa practised and eventually mastered traditional techniques of leather production to build upon his skills. The product of this dedication was strong, durable, and high-quality leather products that are made entirely by hand.
"From there, I turned my passion into a brand because I wanted to share my passion with the world," says Isa. Jilid creates everything from leather-bound notebook covers, wallets and cardholders, and all kinds of leather accessories such as keychains and trays.
What sets Jilid apart from other premium leather brands is its connection to traditional and ancestorial creation methods. The deep connection to the culture behind leathermaking ensures an honouring of the practice that lives on in every product they create.
"Nothing is more important to me than guaranteeing the longevity of our products so that my customers can pass their products down from generation to generation – just like in the old days" notes Isa.
Isa's ambitions for the future of Jilid are unbound. "My story is still ongoing because Jilid is still quite young! But so far, we've begun developing our identity in the MENA region, and we have our eyes set on expanding into the international market," he says. "We want to become known as one of the world's most reputable handmade leather companies with quality that simply can't be beaten".