December 2018
---
#Trailblazers: Robert Garita and Nayef Al Ibrahim
Q Magazine uncovers how Qatar, now more than ever, is the place to innovate, create and cultivate new ideas.
Fab Lab (short for Digital Fabrication Laboratory) turns ideas into reality using cutting-edge technology and shared knowledge. Fab Lab aims to spread awareness about the growing local capabilities available in Qatar through prototyping using 3D printing and other new technologies.
At the heart of this future-looking venture is a small-scale workshop which provides a supportive environment for creativity and aims to enable everyone, from young people to seasoned entrepreneurs, to advance their ideas and turn them into projects. Fab Lab provides the latest tools, equipment, and manual and digital manufacturing devices, helping reduce the costs of invention.
It is innovation in action. 'We open the space for everyone, whether they are technology experts or not,' says Robert Garita, Fab Lab Manager. 'You can come here and develop your ideas, using different techniques and machines. You can prototype something and move to the next stage of innovation. We are working closely with entrepreneurs, private companies, and students alike.'
He explains: 'If you have an idea and you want to get it to market, you have to first prototype it. Then you can go to the market, validate your idea, and turn this into a business.'
---
"We equip and empower the young generation with a new skill-set to foster innovation and their ability to make things" – Nayef Al Ibrahim
---
He shows an example of a prototype of jewellery, holding up an eyecatching Arabic ring to catch the light. Its fine detail and intricate design looks as if it were the product of a traditional artisan, and yet it has been made by a 3D printer at Fab Lab from resin.
Designers came to Fab Lab with an idea for the ring, which they needed to refine. 'We took the 3D model, and then printed it, first using plastic, and then using resin,' says Garita, a Costa Rican architect specialising in digital fabrication and social innovation. 'The designer was able to then discuss this with the client and customise the product, before beginning mass production. In this case they are going to cast it in gold, so they have to get the design right at the outset.'
Now with Fab Lab you can be a 'pro-sumer' – a producer and consumer combined. He says: 'This is changing the economy. We need spaces where you can prototype an idea, get more precise information and fine-tune the design, and then bring this to on-demand production.
'Fab Lab is a call to action that turns us from the consumers of technology, through gaming and phones, to applying technology to turn us into producers. It is the fourth industrial revolution at work.'
This will result in more environmentally-friendly manufacturing, he believes. 'You are making something for your needs, not taking something from the market that is pushing you to consume. Technology is just a tool, not the final goal – it will allow us to make customised products that will change the way we consume.'
The beauty of the Fab Lab concept is about more than technology, he says. 'When you have a collaborative space, people from different backgrounds, where you can work with biologists, engineers, designers in the same place, that is a huge change.
'If technology is not open to the people, there is no social innovation. What I love about Fab Lab is that it gives people the opportunity to play with the machines, learn from others, and produce something unique.'
He adds: 'Qatar is a wonderful environment for innovation because it brings so many experts from different fields together. Fab Lab will allow the nation to produce what it needs.'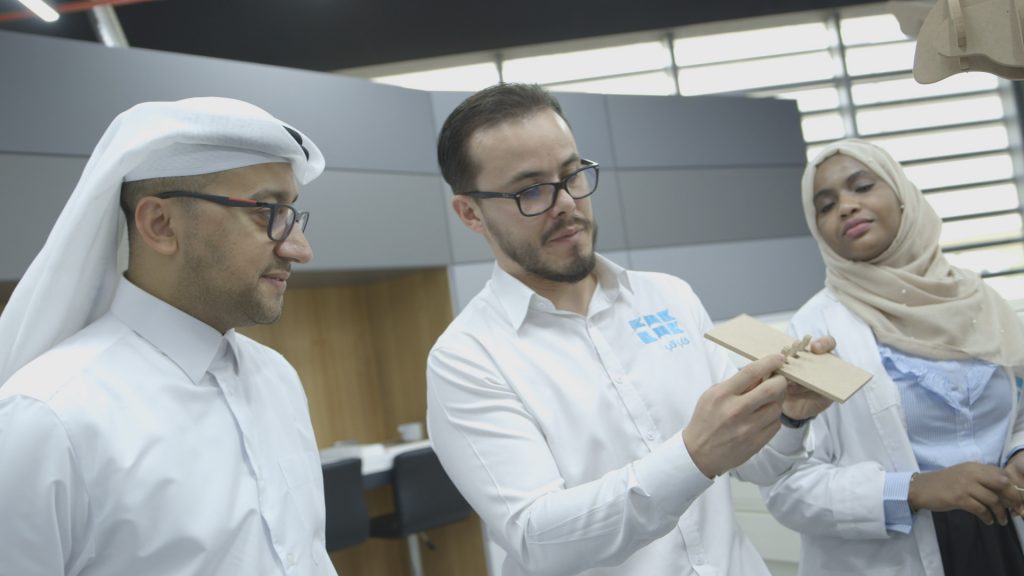 Fab Lab is part of a network of 1,500 around the world, providing a global community for inventors. QBIC Fab Lab, funded by Qatar Development Bank and managed by Qatar Business Incubation Centre's incubated startup, ibTECHar Digital Solutions, is the first incubator-based fabrication laboratory in Qatar.
QBIC Fab Lab is a small-scale workshop that provides entrepreneurs and inventors with a wide range of state-of-the-art computer-controlled tools and programmes that help them digitally fabricate products and prototypes.
Nayef Al Ibrahim, ibTECHar founder and a civil engineer, says: 'We provide integrated, solutions-focused education. We bring content, technology and people, and we operate spaces. ibTECHar in Arabic means innovation – to be innovative. We believe technology empowers human beings.'
He has a clear vision: 'We equip and empower the young generation with a new skill-set to foster innovation and their ability to make things. In the long term, we believe this will contribute to our growing diversified economy. Qatar is blessed with the resources we need, so we have a unique and huge opportunity. This is an exciting time to be a young person in Qatar.'