August 2022
---
Studio 5/6
Q Life Spoke to Studio 5/6 project manager, Eng. Sabine El Kahi about their aim to nurture kids and youth by sharpening their 21st century learning skills and turning them into digital leaders as they develop in an everchanging digital world.
How did the idea of Studio 5/6 come to life?
"Studio 5/6 is the first Fabrication Lab and is one of the many community engagement tools being used to continue to build a Smart Qatar, by accelerating the country's digital transformation and building towards the Qatar 2030 vision.
Studio 5/6 is envisaged as a community platform that offers technology and allied equipment support for hands-on learning opportunities in order for the youth to develop 5 skills using 6 different tools. At Studio 5/6 kids and youth can develop their creativity and innovation, problem-solving and critical thinking skills. The platform will also develop young people's knowledge of technology and help them become future creators of technology."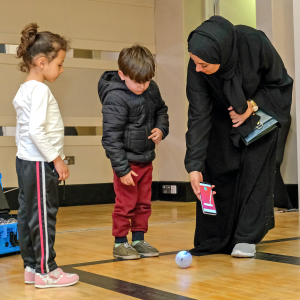 Can you tell us more about the vision of Studio 5/6?
"We were started and built with the youth in mind. The goal of Studio 5/6 is to foster innovation, imagination and creativity through the exploration of cutting-edge technology in an inclusive and collaborative environment for those between the ages of 7 to 18. Studio 5/6 is where formal and casual learning meet outside of the traditional learning classroom to give the kids and youth in Qatar hands-on encounters that facilitate them to refine their thoughts, be progressively engaged with critical thinking, problem solving, and collaboration; allowing them to become future creators of technology."
In an increasingly digital world, why is it important for our youth to be knowledgeable when it comes to technology?
"We want to prepare the youth of Qatar for the Fourth Industrial Revolution. Rapid developments in technology continue to emerge, including artificial intelligence, the Internet of Things, data-driven decision making, virtual and augmented reality, robotics and coding. It is clear that the future workforce will need to be digitally capable.
How do we, as a nation, prepare our youth to best utilize and benefit from the unlimited potential of technology in their professional, social, and personal lives? Qatari youth should be prepared for the challenges of tomorrow, and be able to fully utilize the unlimited possibilities the future has to offer. Therefore, Studio 5/6 will facilitate the youth to become future creators of technology, instead of the mere consumers in society."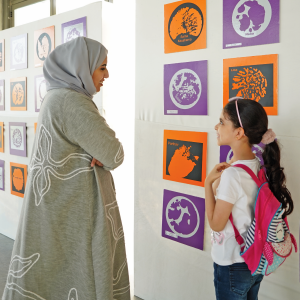 Studio 5/6 focuses on hands-on learning in many of its workshops. Can you tell us the benefits of this?
"The majority of youth in Qatar tend to be advanced consumers of technology. There are major efforts underway to provide children and young adults with technological concepts to become creators of Information and Communications Technology (ICT), and not simply consumers of technology. However, the approach is theory-based, and needs to be conceptualized and put into action. As a result, Studio 5/6 was established to be a space for exchanging ideas, creating and inspiring innovation, learning and designing prototypes, and producing and sharing products."
What are some skills that Studio 5/6 hopes to instil in the youth through their workshops?
"Studio 5/6 aims to develop 5 Skills for the youth in Qatar (Electronics, Coding, Modelling, Digital Fabrication, Robotics), using 6 tools (Vinyl Cutter, Milling, Laser Cutting, 3D Printing, 3D Scanning, VR/AR), hence the name Studio 5/6. Our skills and tools are updated regularly as technology and skills evolve minute by minute."
How is Studio 5/6 preparing the young generation in Qatar to become future creators of technology?
"For the kids in Qatar to be prepared to engage in a world alongside smart machines, they need to be educated differently than in the past. Studio 5/6 has a unique curriculum inspired by the United Nations Sustainable Development Goals (UNSDG). This has worked on interlinking highly advanced digital fabrication technology into this curriculum to address global challenges and the Fourth Industrial Revolution.
Studio 5/6 works throughout the year to design and deliver free workshops in areas such as digital design and digital fabrication using various machinery and tools such as 3D printing, CNC milling, electronics, programming, VR/AR technology, mobile app development, and digital game development."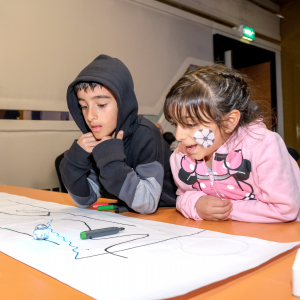 How has the Qatar community reaction been to Studio 5/6 and its engagements?
"Parents were thrilled that their kids and youth started to build a solid technological foundation, because they understand that futuristic technology is what is going to determine the development and prosperity of both their kids and the county as a whole. Parents can see and feel the impact and appreciate the real benefits of living in a Smart Qatar."
What are some relevant facts, figures and anecdotes that highlight the success of Studio 5/6?
 "In the last 4 years and to date, Studio 5/6 has hosted more than 14,500 children and youth in more than 800 hands-on and online activities.
In fact, Studio 5/6 extended its contribution beyond Qatar by becoming the first digital fabrication lab in the Arab World to publish lessons in Arabic and English in the International Organization for Digital Fabrication Scopes-DF, an international platform that focuses on the curriculum in the digital fabrication field. This has a positive influence on Arab youth across the region. Studio 5/6 is also a member of the international fabrication lab network (FAB LAB) with members reaching over 2,000 Fab Labs in 126 countries around the world."
What are some future plans for Studio 5/6?
"By providing a space for stimulating innovators' creative energies in Qatar and developing their prototypes, Studio 5/6 aims to play a larger socio-economic role, which in turn is going to help launch futuristic projects in collaboration with various sectors in the country.
We are currently working with partners such as local organizations and schools to continue spreading the maker culture into communities. We are also planning to expand our reach to the community beyond the current 7-18 years old target group, to include age groups above 18 who supported us along the way and showed enthusiasm in being part of this technological movement.
We are also going to build on the success of previous years and move forward with new engaging programs full of challenges to be explored by the young makers in Smart Qatar, the builders of the future."