April 2022
---
Alhanouf Alsulaiti
Badla Kids is a local fashion brand that is dedicated to creating contemporary clothing for children, that is inspired by elements of Qatari culture, tradition and heritage. Q Life interviewed Badla Kids' founder and designer, Alhanouf Alsulaiti, to learn more about their dedication to clothing the future generations with the rich heritage of the past.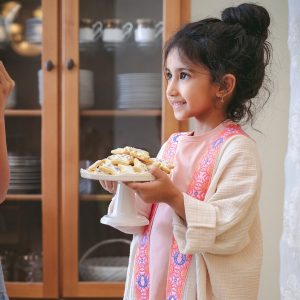 How did Badla Kids begin and what was the inspiration behind it?
In 2016 I had my daughter and during that time, I struggled to find local children's brands with a cultural touch that is modern and comfortable for the kids to wear. That made me start thinking of creating my own designs, so, in 2020 we launched our first collection, which was inspired by the Middle Eastern culture.
How is Badla redefining traditional jalabiyas for the youth?
For each design we produce, we try to make it modern, simple, fun, contemporary and timeless so that the children can wear it comfortably anytime from day to night, and from the city to the beach.
Tell us about the inspiration behind your jalabiya designs?
In each collection we find one or more elements to be inspired by. For example, the first collection Ramadan/Summer 2020 was inspired by the Middle Eastern culture with prints of Eyes and the Hamsa in most of the pieces.
For our Ramadan 2022 collection, our main inspiration was the beautiful environment of Qatar. You can see the Desert Hare in more than one design, there is also the Fennec Fox, which is one of the cutest animals that live in Qatar's desert. In other Jalabiya designs, we were inspired by the desert flowers as well.
In your opinion, what is the significance of wearing jalabiya in Ramadan?
Ramadan has many traditions like the food we make, family and friends' gatherings and the fashion in Ramadan is different than any other month of the year. in this month we cherish our cultural clothes and try to wear them every day. I believe that started because we try to be more modest in this Holy Month.
To me, the Jalabiya and the Bisht, is a simple way to teach our children about their culture and how it is important to be modest especially in the Holy Month of Ramadan.