May 2022
---
A Day at the Library
When looking for a book to read we can suggest a place that offers you more than just an escape from reality through reading. A place where when you arrive you feel transported to the future. The Qatar National Library (QNL), with its spacious high ceilings, gleaming lights and massive book selection is an experience in itself.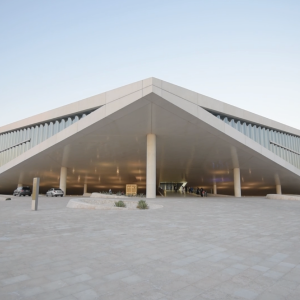 As you arrive to the destination you are welcomed by a space-ship like entrance, and immediately flooded by the sunlight as you make your way through the glass doors. Designed by Dutch architect Rem Koolhaas, the opulent building has an odd and unexpected form. From the exterior it looks like some kind of spaceship that landed in the middle of Education City at the heart of Qatar. This sci-fi feel runs through the inside with striking open spaces and distant shelves that look like they'll lead you into an abyss.
The Qatar National Library is an iconic landmark inaugurated in 2018 as a modern facility that provides the people of Qatar access to nearly 1.2 million physical books and an unlimited library online. Not only is it a library but a cultural monument in and of itself. In its role as a research library with a preeminent heritage collection, QNL provides insight into the history and culture of the Arabian Gulf region.
If you're ever in the neighbourhood, and felt the need to visit this magnificent masterpiece of a building, you're surely going to bump into a few people. When wanting to ask about a book, or check out a reference you'll have to visit the information desk where a librarian, like Sara, will greet you with a smile and an eagerness to assist. Although she's positioned at the help desk at the QNL she wasn't always on her path to this job. Born and bred in Qatar, she "studied English literature in university". Which to her, gave her a good understanding of some of the classics and lead her to love reading and thus worked in the library where you've met her today. Working there for four years, she'll tell you all about the borrowing process and the various programs you can sign up for.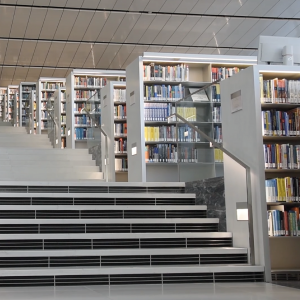 Once you got all the information you needed, you'll ascend the marvellous staircases that lead you to the stacked shelves, where you'll peruse for the title you're on the hunt for. Maybe another novel entices your attention. No problem, pick it up, just make sure you know where to put it back! Then make your way to the sofas snug between those towering shelves and read a few pages to satisfy your curiosity.
If you look over to your left, you'll see two girls skimming through some books as well. If you strike up a conversation you'll learn that Aisha and Fatima are here on their summer vacation, and picked their adventure for today to be at the National Library. It's their first time here as well. They heard about this place though social media as teenagers do. Aisha finds herself charmed by English Classics as Fatima looks for book on planets as she's interested in astronomy and would one day like to pursue that academically. Today is a location checked off of their summer activity list as they've made their way to various parks and museums around Doha. However, the QNL holds the position of their favourite so far with the historic museum with manuscripts from olden times in faraway lands.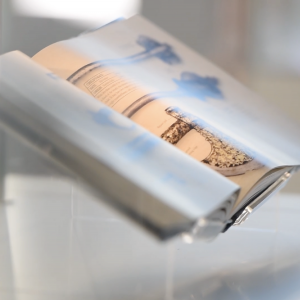 After having a nice chat and read through your book you might begin to wonder where all these women with strollers are disappearing off to. They're all making their way into a corridor one after the other. You feel the need to explore more of this expansive space, so you look for the signs on the boards, and see that there's a whole separate children's library. What a great idea, you think. The library is a place for everyone in the community so having a secluded space for children is brilliant!
You walk down the stair case, and make a turn behind the Safahat café, meander down the hallway and find the children's library with its vibrant colours, and posters with all our beloved childhood characters namely the Very Hungry Caterpillar by Eric Carle. Here is where you'll meet mothers with their children with books flailing in their arms as they try to decide what to read. You could bump into someone like Neda who is here with her two daughters Doa and Hadiya.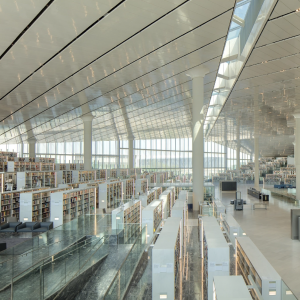 Coincidently enough, it is Neda's first time in the library as well as she's here to spend the morning with her girls reading their favourite books. Which books are their favourite do you ask? "Well Doa loves fairy tales, she likes to read princess stories, but Hadiya is still young I feel, we're discovering her taste in genre now." When asked if she likes to read, Neda nodded enthusiastically saying that she loved reading growing up and as a teacher she likes to engrain that in her students as well as her daughters. "In Pakistan, if you graduate with a social science degree there aren't many occupations other than teaching." So, she's here in Doha to join her husband who worked here for 5 years. She has her mornings to herself before she starts work by the new school year at one of Qatar's international schools.
You've met new people, you've learned something new from both book and being. Now you've got a taste of what it's like when spending a day at the Qatar National Library.