March 2022
---
Lulwa Al-Marri
Lulwa Al-Marri's passion for sports is what led her to triathlons. She has always loved running and cycling but wanted to find a way to push herself to the next level. She wanted to combine her favourite sports and complete a triathlon. In August 2021, Lulwa completed her goal of becoming the first Qatari woman to complete a full distance triathlon.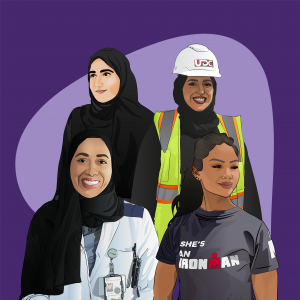 "I tried to find a something that I won't see as impossible. Triathlon is a rare sport in Qatar so I took that challenge to be the first Qatari woman to do the Ironman Triathlon," Lulwa says.
To prepare for the massive feat of swimming, cycling and running that a triathlon race demands, Lulwa dedicated a lot of time to prepare and train. Due to the pandemic, Lulwa had to mainly do solo-training which was a mental test by itself. "As athletes, it was a big challenge for us but it didn't limit us. For me personally, I faced a challenge where the parks and the gym were closed so I had to create the training environment in my home," she says.
She recalls having to be creative to find ways to accomplish her goals. From wrapping a band around her waist while swimming in a pool to achieve her target mileage to running for hours on end on a treadmill, Lulwa was determined to not let anything stop her.
Through her fitness journey, Lulwa hopes to inspire others to start their own active lifestyles. She believes that anyone can be active, no matter the sport or their fitness level.
"Always keep it simple and sustainable. Find something that you are passionate about and it will be beyond possible to achieve it with some hard work," Lulwa says. "Make sure you put in effort and InshAllah all your dreams will come true".
With new goals to tackle and new experiences to try, Lulwa is excited for what the future holds. "To be the first to do anything obviously comes with a lot of challenges, but to represent my country was worth it. All the hard work pays off and I am ready to break records and InshAllah take Qatar's flag to international levels," she says.