March 2023
---
Revitalising Qatar's education sector
Nada Ali Bahzad is an inherently passion-driven individual. When she graduated from university, she could not stop but to think about her next chapter as a professional. It is when she discovered with dismay that only few opportunities to apply her freshly acquired skills were opening up to her, that Nada took her future in her own hands, forging her own path to success.
In 2018, an advertisement for an incubation programme at the Qatar Business Incubation Center inspired Nada. What if she too could apply her skills to launch an innovative entrepreunerial project in only 10 weeks? Convinced by this mission, Nada applied to the programme with the intention to create an impactful business venture that would benefit her professional career as much as her fellow youth.
For Nada, it was clear that her path was to ensure nobody in Qatar struggles in launching their professional careers.
"I had the idea of developing a platform to centralise all career development opportunities in Qatar," Nada says. "I came up with the idea of offering online services to Qatar's youth, supporting recent graduates in their professional and personal development". Inspired by the Arabic word for 'pathway', Nada launched Masar, a forward-looking digital hub for youth empowerment and development.
The future is bright for Masar. "I have a longterm plan for Masar. God Willing, it will address a lot of needs and provide services that the youth requires in our market", says Nada.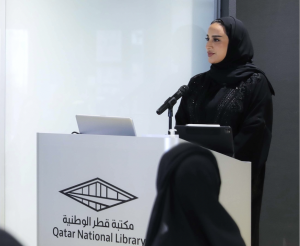 In the course of her entreprenerurial journey, Nada stumbled upon Teach for Qatar whilst visiting a career fair.  As a non-governmental organisation, Teach for Qatar reintegrates exceptionally talented leaders into the public school system, through a two-year teaching and leadership development programme.
"The beautiful thing about this is that all these new teachers have different backgrounds and when we go into the classrooms of public schools in Qatar, we bring in our own basket of knowledge and expertise and we share it with the students in our own way," she says.
Nada's time as a teacher left a strong mark on her as a person. "It was a beautiful journey, and what I always say is that I did not simply teach English for two years. I taught values, I created impact, I transformed lives".
In her role as Senior Programme Development Officer at Qatar Reads, Nada's passions for education and serving others merged into one. Today, it is with pride and honour that she contributes to the success of a Qatar Foundation programme that communicates the importance of universal reading.
"Serving others is an important point for me in terms of entrepreneurship and education," she confides. "I feel a big sense of self-empowerment by giving others the chance to be empowered".