August 2021
---
Stallions Sports Academy
A resident of Qatar since 2008, a banker by occupation and cricket coach by passion, Ashan Perera is the Head Coach at Stallions Sports Academy Qatar. The Academy is the leading and largest one in Doha, with roughly 200 young players trained in a yearly season.
Inspired and encouraged by his father, Ashan began playing Cricket at the age of 8, participating in many levels and divisions of the sport. "What makes me continue playing the sport is the way it has helped me in my personal life, in terms of teamwork, physical fitness, mental health, and strategic application. All of these have allowed me to gain a healthy way of living". Ashan now coaches his son at the Academy.
As a home for young cricketers to practice their sport, Stallions came to its first fruition back in 2013, initiated together with Sidath Tennakoon and Lakshitha Perera, two pioneer cricketers from Sri Lanka.
Ashan met Sidath, an experienced Academy manager, whilst Ashan was operating Lion's cricket club in Doha. Together they collaborated on the idea of starting their own Academy, and Stallions was born. "Under his guidance, we managed the academy, producing many talented players to represent Qatar in international tournaments", Ashan says.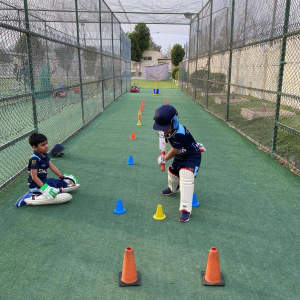 Stallions' mission is to encourage youngsters to participate in sports for their enjoyment and to help them develop their physical, mental and social skills. Stallions strive to create a world-class learning experience, through structured and goal-orientated programs, with experienced staff, "We focus on setting an example, creating opportunities and providing innovative learning environments".
There have been many proud moments for Stallions Cricket Academy, "We embarked two junior cricket teams to the UK and brought junior teams from Dubai to Doha. These opportunities have been a great way for youngsters to participate and nurture their sport."
Stallions have also produced some young talents to represent the Qatar National youth teams. "I would like to thank the Qatar Cricket Association for the many opportunities they have provided to the young players".
During their time as an academy, Stallions have faced challenges, "In the initial stages, it was difficult to facilitate the children with a stadium and facilities. However, over time and with much effort, we have created an environment to grow our players on beautiful grass grounds with cricket nets at the Iranian School in Abu Hamour."
Ashan is passionate about Cricket and the beauty of team sport. "Cricket is more than a sport; it offers skills such as team building, judgement and decision-making, and allows you to grow your confidence incredibly. To me, nothing beats the feeling when you step out onto the field to play your favourite sport."
The cricket community in Qatar continues to be strong as the sport holds popularity in many South Asian countries. "I have seen a lot of enthusiasm throughout the Asian communities, especially India, Pakistan, Sri Lanka, Bangladesh and Nepal. I have seen many outdoor spaces in Qatar filled with people coming together for the sport, whether to participate and spectate. It's a beautiful sight."